Mediterranean Omelette

(4 servings)

3 large eggs - beaten
2 Tablespoons olive oil
1/2 cup onion - chopped
1 clove (about 1/2 teaspoon) garlic - minced
1 package (10 ounces) frozen chopped spinach - cooked and drained
1/2 teaspoon ground oregano - optional
salt and pepper - to taste
1/2 cup crumbled Feta or shredded Swiss cheese
This was a pretty tasty omelette, but it really needs the optional oregano and feta cheese to give it any kind of Mediterranean flair. If you make it with Swiss cheese, it'll be good but it'll taste more like something you'd get in Ohio rather than a breakfast you might find in Greece. I opted to use fresh spinach. I threw a heaping handful in with the onions and cooked and stirred until the spinach was wilted (about 90 seconds). All in all, this was a fresh tasting omelette. It didn't transport my taste buds to distant lands, but it did make them quite happy. (This recipe was submitted in 2002. It was tested and photographed in November 2015.)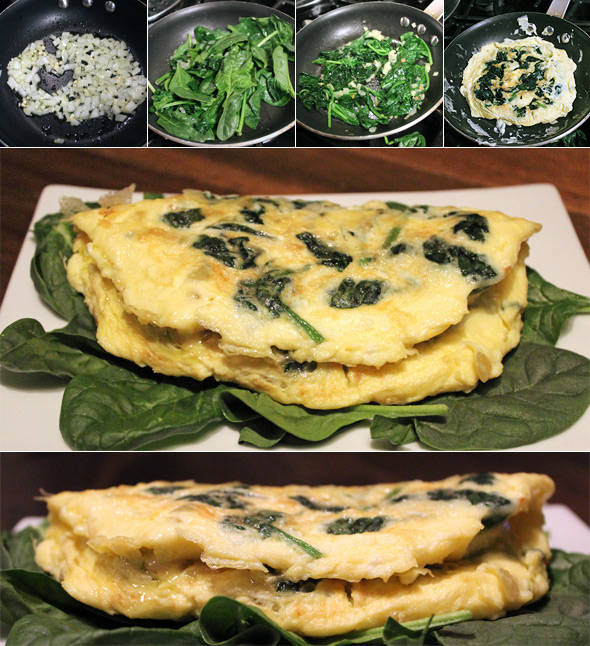 How To Make A Mediterranean Omelette

Add oil to a large skillet over medium heat. Add onions and garlic; cook until onions are limp but not brown; add cooked spinach and stir.

Pour eggs into skillet. Season with oregano, salt and pepper. Let cook for about 30 seconds and then begin lifting the edges with a spatula while tilting the pan so uncooked eggs flows to the pan's surface. When the egg is nearly set, flip the omelette.

Sprinkle cheese evenly over the omelette. Cook for about 30 more seconds and then fold and plate the omelette.


A flavorful omelette with spinach, Feta cheese, garlic, onions and oregano. Also good as a frittata cut into quarters served on top of toasted onion bagels.




Mr Breakfast would like to thank Eggman for this recipe.

Recipe number 219. Submitted 5/6/2002.