Walnut Muffins

(12 servings)

1/2 cup walnut oil
2/3 cup whole milk
1 large egg plus 1 large yolk
3/4 teaspoon pure vanilla extract
1 and 1/2 cups all-purpose flour
1/2 cup sugar
1 1/2 teaspoons baking powder
3/4 teaspoon salt
1 cup coarsely chopped walnuts (1/4 lb) - toasted
additional halved walnuts for garnish - optional
Preheat oven to 350 degrees with rack in middle. Generously butter 9-12 muffin cups (depending on size).

Whisk together oil, milk, egg plus yolk, and vanilla in a large bowl.

Whisk together flour, sugar, baking powder, and salt in another bowl, then whisk into milk mixture until just combined. Stir in nuts, then fill buttered muffin cups 1/2 to 2/3 full with batter.



If desired, top each muffin with a couple larger walnut pieces so people can see what they're getting when they see the finished muffins. (It's best to use raw walnuts for this as they'll get plenty toasted as they cook.)



Bake until golden and a wooden pick comes out clean, 20 to 25 minutes. Cool in pan on a rack 15 minutes.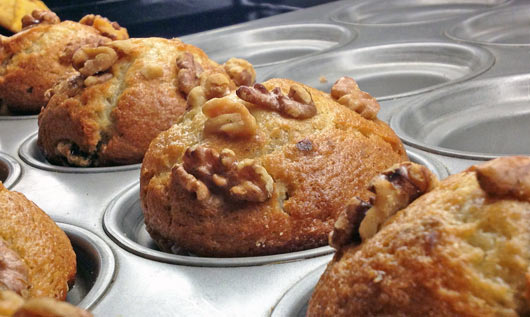 If you love walnuts, this is the muffin for you. Nothing too fancy - just a nice, rich vanilla cake base to support the star of the recipe... the humble, wonderful walnut.




Mr Breakfast would like to thank brekkiebaby for this recipe.

Recipe number 2176. Submitted 10/5/2007.