Pasta Mama Easy Breakfast Pasta

(2 servings)

3 ounces dry capellini or angel hair pasta
1 hot or mild Italian sausage (4 oz.) with casing removed
2 thick slices of bacon - cut into 1/2-inch pieces
1 teaspoon minced garlic
1 tablespoon chopped green onion
3 large eggs - lightly beaten
2 tablespoons chopped parsley or basil
2 to 3 tablespoons freshly grated Parmesan cheese
Salt and pepper to taste
I think most people would find this more appropriate for dinner than for breakfast. But no matter when you eat it, it's pretty amazing. I did make a couple of adjustments to the recipe as submitted (not reflected above). I doubled the amount of sausage. Next time, I will also double the amount of bacon. Instead of using the sausage drippings, I used butter - which I also doubled. I served each portion with even more butter and a really generous amount of Parmesan. Don't expect the egg to result in pieces of scrambled egg in the dish. It acts more as a thickener making the pasta heartier and more rich. I recommending using basil in place of parsley where that option is giving. This was indulgent and filling. I'm excited to make it again. (This recipe was submitted in 2007. It was tested and photographed in September 2015.)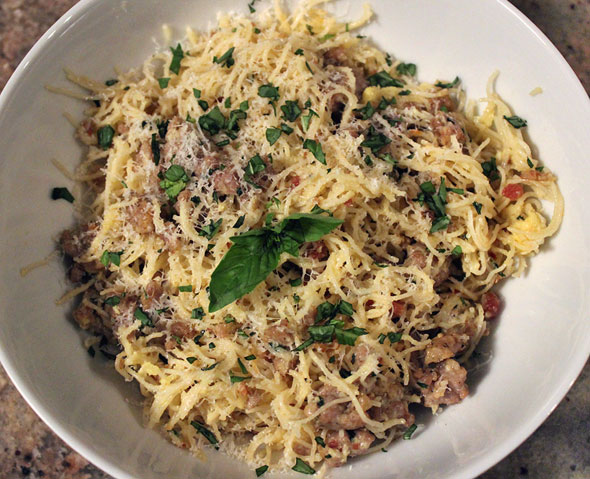 How To Make Easy Breakfast Pasta

Bring about 2 quarts water to a boil. Add noodles and cook, uncovered, 3 to 4 minutes. Drain well.

Crumble sausage into a 10- to 12-inch frying pan. Add bacon and stir often over medium-high heat until lightly browned. Drain off and discard all but 2 tablespoons fat.

Add garlic and green onions; stir often until onion is limp. Add cooked pasta and mix until hot and coated with fat. Add eggs, 1 tablespoon parsley, and Parmesan cheese; stir until eggs are softly set. Spoon onto a plate. Add salt and pepper to taste. Sprinkle noodles with remaining 1 tablespoon parsley.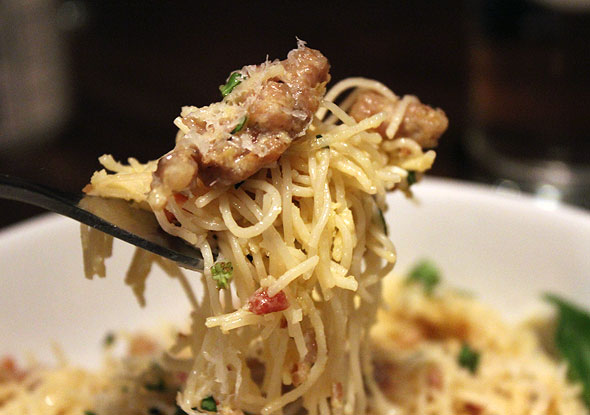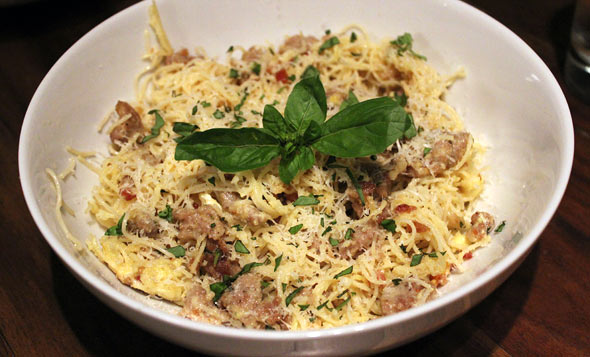 Great for any time of day. Instead of parsley - try with basil or even cilantro and garnish with avocado!




Mr Breakfast would like to thank mrbreakfast_lvr for this recipe.

Recipe number 2174. Submitted 10/4/2007.