Irish Omelette

(2 servings)

1 large potato - cooked and mashed
1 Tablespoon butter - melted
2 Tablespoons milk
4 large eggs - separated
1 squeeze lemon juice
1 Tablespoon chives - chopped
salt and pepper - to taste
1 additional Tablespoon butter - for frying
This frittata-style potato omelet has a very straight-forward, simple flavor. It's essentially fried mashed potatoes with some egg to hold it together. Think of it as a new way to appreciate the humble potato. Those who are used to ham and cheese omelettes and the like may find this dish a little on the plain side. For those people, I recommend sprinkling 1/4 cup of shredded cheese over the omelette right after you pull it from the broiler. (This recipe was submitted in 2002. It was tested and photographed in March 2014.)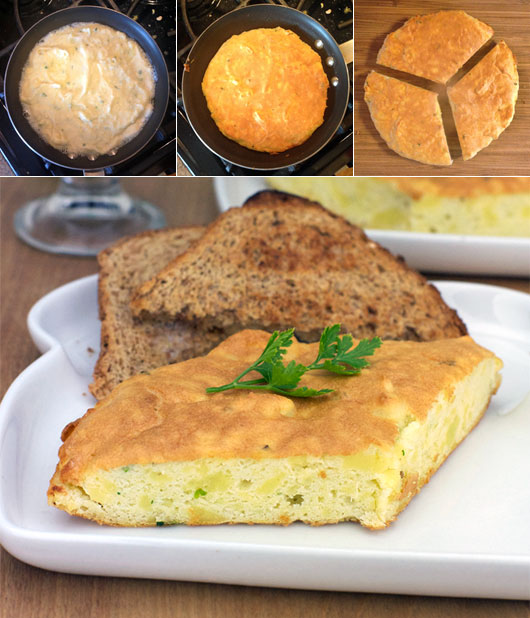 How To Make An Irish Omelette

Crack the eggs and separate the egg whites from the egg yolks.

Lightly beat the yolks and mix them into the mashed potatoes along with the melted (and cooled) butter, milk, lemon juice, chives and seasonings.

Melt the additional butter in an OVEN-SAFE omelette pan over medium heat.

Whisk the egg whites until stiff and stir them into the potato mixture. Pour the combined mixture into the hot omelette pan.

Cook until golden brown on the bottom (about 6 to 8 minutes). Place the pan under the broiler to finish and puff it up (about 5 minutes).

Slice into wedges and serve while hot.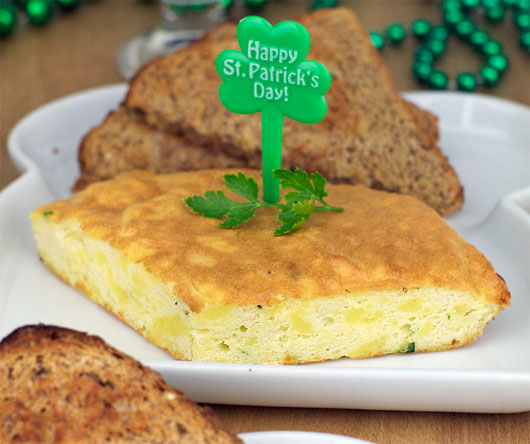 Cooking Notes From Mr Breakfast:

If making the full recipe, be sure to use a fairly large pan with at least a 10-inch diameter.

The milk and melted butter were added to the recipe by me after I initially tested it. I found the omelet to be quite dry without those additions. In the original recipe's defense, it is meant to be less moist than an American omelette.

Surprisingly and very un-Irish of me, I found the best condiment to serve with this omelet to be salsa. Top 'O The Manana!


Irish Omelette Trivia:

Ireland has a population of 3,840,838 (July 2001). It's capital is Dublin. English is the language generally used there. However, Irish (Gaelic) is also spoken, mainly in areas located along the western seaboard. The Irish Gaelic word for potato is pratai, transliterated to "praties" in English (though most English speakers there refer to potatoes as "spuds").

Every since the Great Potato Famine (1845-1852), the Irish have had a renewed appreciation for the humble potato. This recipe puts a spotlight on that edible tuber.




Mr Breakfast would like to thank Eggman for this recipe.

Recipe number 217. Submitted 5/6/2002.