Spicy Sausage Gravy (For Biscuits)

(6 servings)

1 12-ounce package of spicy breakfast sausage
3 Tablespoons butter
1/4 cup all-purpose flour
3 cups milk
1 teaspoon cayenne pepper
1 and 1/2 teaspoon salt
black pepper - to taste (3/4 teaspoon works well)
In a large skillet over medium-high heat, cook and crumble the sausage until evenly browned.

Remove the sausage with a slotted spoon so the drippings remain in the skillet.

Reduce skillet heat to medium. Add the butter. When melted, add the flour and - stirring often - cook until the mixture is light brown.

Slowly stir in the milk and continue cooking until it starts to thicken. Add the sausage back to the skillet and season the gravy with the cayenne pepper, black pepper and salt.

Reduce the heat to low and let the gravy simmer for 10 to 15 minutes until the consistency is just right.

Serve over biscuits.

For a nice treat, place a poached egg over each serving.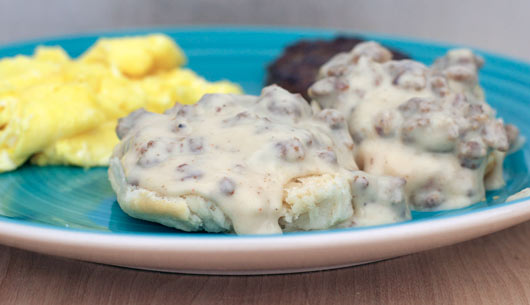 Note From Mr Breakfast:
This recipe was sent to us by a great guy named Bennett. I just tried it and I found it to be easy and really tasty with a nice amount of heat. Some may find it too spicy. If your heat tolerance is low to medium-low, reduce the amount of cayenne pepper to 3/4 teaspoon. One note about preparation: When you mix the flour, melted butter and sausage drippings, it will have a consistency like a thick paste that can't decide if it wants to stick to the pan or ball up. This is normal. This mixture will dissolve when the milk is added.

This easy-to-make sausage gravy gets a serious kick from cayenne pepper.




Mr Breakfast would like to thank Bennett for this recipe.

Recipe number 2095. Submitted 7/27/2007.