Amaretto Pancakes

(4 servings)

2 cups Bisquick or similar baking mix
2 large eggs - slightly beaten
1 cup milk
1/4 cup Amaretto liqueur
1/2 cup sliced almonds - optional garnish
In a large bowl, combine baking mix, eggs, milk and Amaretto. Stir until well blended.

On a lightly greased griddle (or skillet) set to medium-high heat. Dollop the batter in 1/4-cup portions to make each pancake.

When the pancakes are dry on the edges and bubbly in the middle, flip and cook other side to golden brown.

Serve warm with soft butter and maple syrup. Sprinkle with almond slices for the finishing touch.

For a special presentation, top with crispy slices of bacon and buttery Amaretto syrup (recipe below).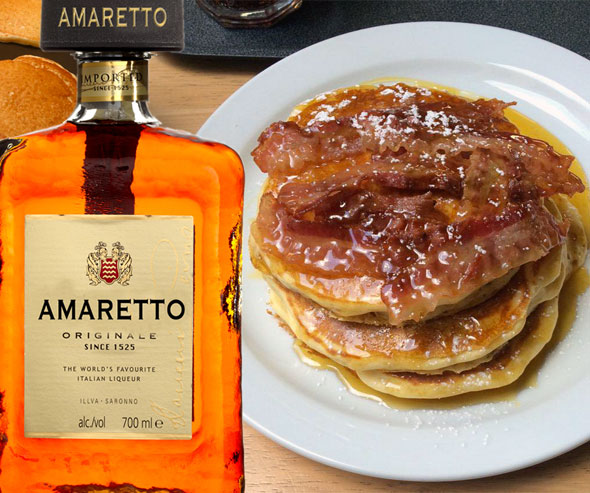 Amaretto Pancake Syrup

In a small saucepan, combine 1/4 cup Amaretto and 1 cup pure maple syrup. Heat to boiling. Turn off heat and add 1/2 cup butter. Stir until butter is melted and combined. Serve warm.


Take Bisquick and some Amaretto liqueur and suddenly average pancakes have an extraordinary almond-like sweet flavor.




Mr Breakfast would like to thank skibunny for this recipe.

Recipe number 2023. Submitted 4/17/2007.