Wheat-Free Maple Granola

(8 servings)

2 and 3/4 cups quick or old-fashioned oats
1/3 cup sweetened shredded coconut
1/3 cup chopped almonds or pecans
1/4 cup sunflower seeds - optional
1 Tablespoon flax seed meal or chia seeds - optional
1/4 cup honey
1/2 cup maple syrup
1/3 cup peanut butter
2 Tablespoons sunflower oil
3/4 cup raisins or other dried fruit - optional
The fact is that most most homemade granola recipes are already wheat-free. Sometimes, a bit of flour is added to help form clusters. But in most cases, that flour can be omitted and the recipe will still work. This is a good basic recipe to use if you want to be 100% sure that your granola won't contain wheat. It is also VERY TASTY. It turns out crunchy and contains a few random clusters despite the lack of wheat. (This recipe was submitted in 2007. It was tested and photographed in November 2015.)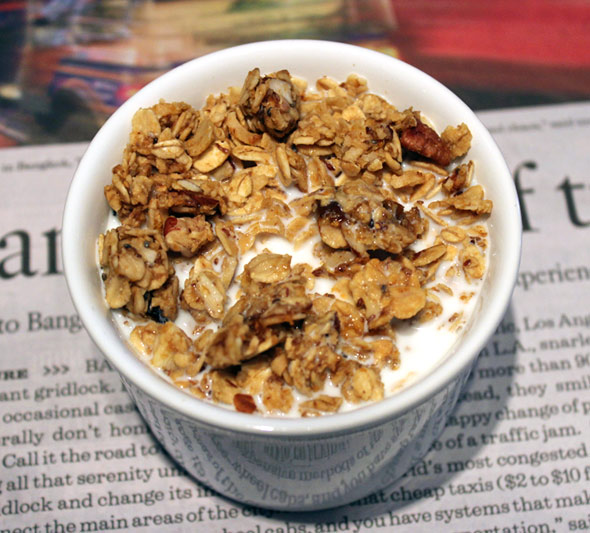 How To Make Wheat-Free Maple Granola

Preheat oven to 300 degrees.

In a large bowl, mix together the oats, coconut, nuts and sunflower seeds.

In a small sauce pan over medium-low heat, stir together the honey, maple syrup, peanut butter and sunflower oil until well blended.

Pour the wet ingredients over dry ingredients and stir to mix.

Spread mixture evenly over a large cookie sheet (or multiple cookie sheets).

Toast in the oven for 35 to 40 minutes - stirring every 5 or 10 minutes.

Remove from oven. Allow granola to cool for 10 minutes. Add dried fruit and stir well.

This granola stores well in an airtight container for 2 weeks.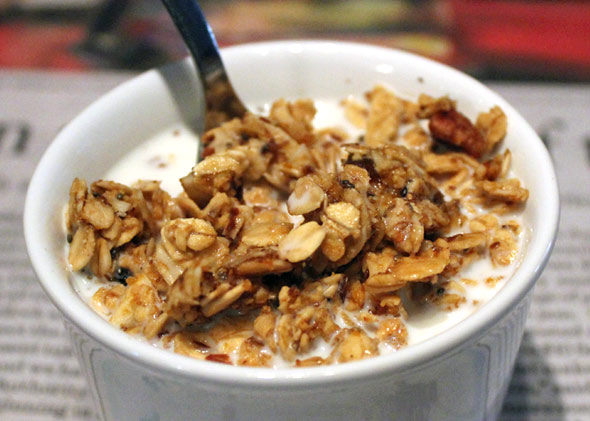 Substitutions:

Honey can be replaced by brown sugar. Add with wet ingredients and cook until fully dissolved.

Peanut butter can be replaced with any other kind of nut butter.

Jam can be used to replace the maple syrup. Cook with wet ingredients until dissolved.

Canola oil or melted butter can be used to replace the sunflower oil.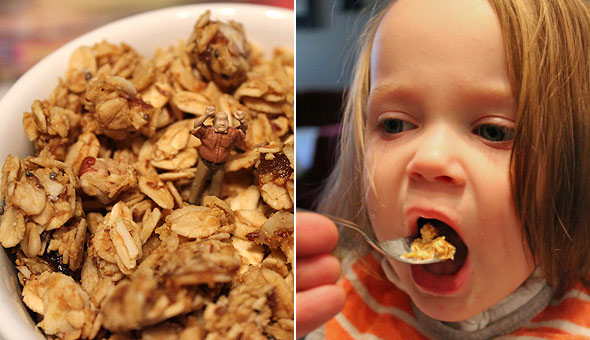 My mom can't eat wheat, but her special-diet granola is so good I asked her to email me the recipe. She said you can use canola oil instead, but sunflower oil has a better flavor. I hope you like it as much as I do!




Mr Breakfast would like to thank griff for this recipe.

Recipe number 2013. Submitted 3/27/2007.