Kielbasa Queen Omelette

(4 servings)

1/2 pound Kielbasa - sliced into thin rounds
1 small or medium onion - diced
1/2 red Italian pepper - diced
4 white mushrooms - diced
1 cup Fontina Cheese - shredded
1 cup sharp Cheddar - shredded
12 large eggs - beaten
unsalted butter - for frying
I loved everything about this omelette. I didn't change a thing from the way the recipe was originally submitted in 2007. The vegetable medley paired perfectly with the kielbasa. The cheeses mentioned in the ingredient work great. I also experimented with combinations of Cheddar & Mozzarella and Cheddar & Pepper Jack. Every combination tasted better then the next. If desired, you could make 2 egg omelettes instead of 3 egg omelettes. Just use 8 eggs instead of 12 and cook as directed. Thanks to 'Jillian' for sending us this recipe. It's a winner! (This recipe was tested and photographed in October 2014.)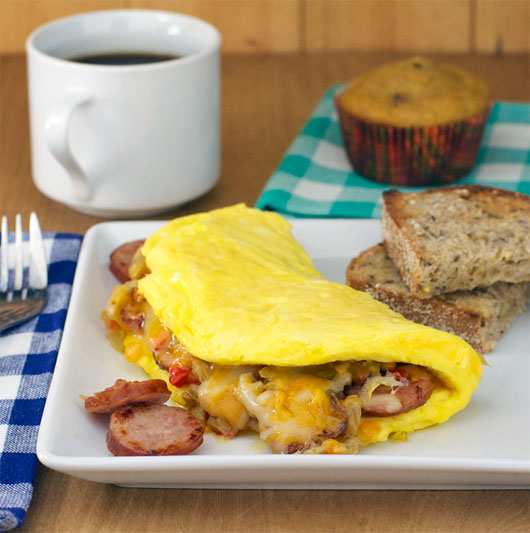 How To Make A Great Kielbasa Omelette

Melt about 1/2 Tablespoon butter over medium heat. Get pan good and hot - fry kielbasa about 2-3 minutes per side or just until nicely browned and edges are beginning to crisp. Remove kielbasa from pan, add 2 tbsp. butter and saute pepper, onion and mushrooms until soft and onions are translucent. Remove from pan.

Give pan a quick wipe and add 1 Tablespoon butter. Pour 1/4 of eggs (about 3 eggs per omelette) into pan (again, nice hot pan) and cook first side to your liking. Flip omelette and on one half layer 1/4 of the kielbasa, 1/2 cup mixed cheeses and 1/4 of the veggie saute. Close omelette. Let cook 1 minute more. Repeat with remaining eggs etc. Makes 4 awesome omelettes.

If desired, garnish omelette with raw peppers - diced small and a sprinkle of melted cheese.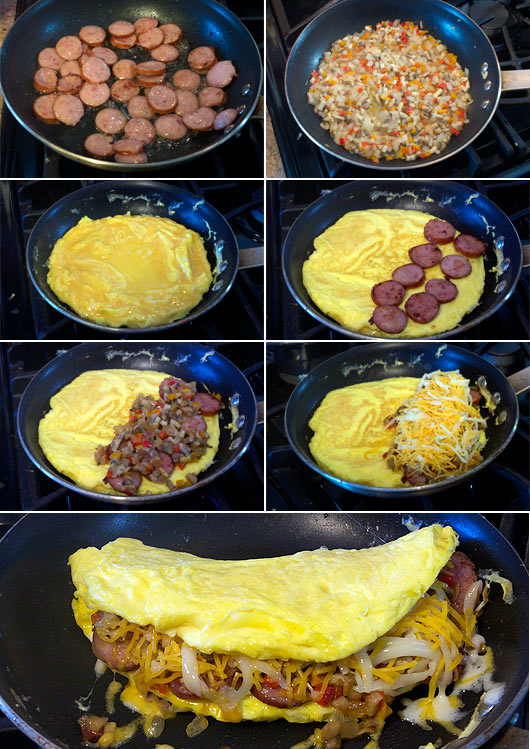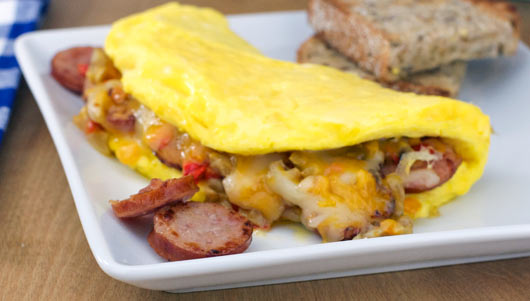 When making this omelette, remember that Kielbasa is pretty salty so you may not want to add additional salt until you taste the finished product.




Mr Breakfast would like to thank Jillian for this recipe.

Recipe number 2002. Submitted 3/8/2007.