Country Omelette

(2 servings)

6 large eggs
1/3 cup milk
1/4 teaspoon Worcestershire sauce
1 and 1/2 Tablespoons butter
1/2 cup shredded Cheddar cheese
2 Tablespoons chopped green onion
1/2 teaspoon salt
pepper - to taste
When I tested this recipe, I cut all the ingredients in half to make a single serving. It worked great. There's nothing too fancy about this one. It's basically just a good, reliable Cheddar cheese omelette with green onion (I used chives). I did like how the dash of Worcestershire sauce gave it a hint of unique flavor. If you're looking for a basic omelette recipe that tastes great, you'll probably like this one. (Recipe submitted in 2007. It was tested and photographed in November 2013.)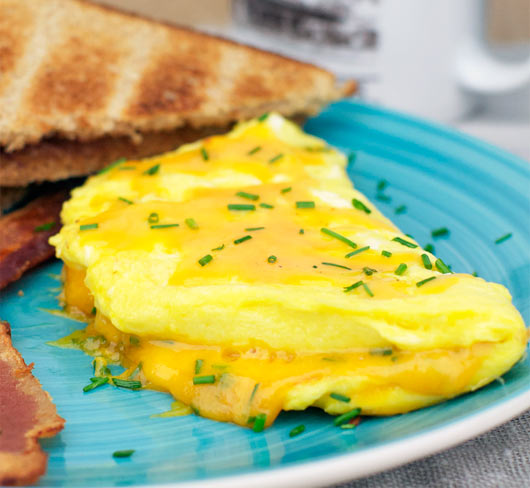 How to Make A Country Omelette

This recipe makes two large portions.

In a large mixing bowl, beat the eggs until slightly frothy. Stir in the milk, Worcestershire sauce and salt and pepper.

In a large skillet over medium-low heat, melt the butter. Pour in the egg mixture. As the egg sets, lift the edges of the omelette and tilt the pan slightly to allow uncooked egg to reach the pan's surface.

When egg is nearly completely set, cover the pan and cook two more minutes until the surface looks dry. Top one half of the omelette with the cheese and chopped green onion. Fold in half.

Garnish with a extra chopped green onion.


This a very nice Cheddar Onion Omelette... so good with whole wheat toast and hashed browns.




Mr Breakfast would like to thank Bennett for this recipe.

Recipe number 2001. Submitted 3/6/2007.