Bacon and Hominy Scramble

(6 servings)

1/4 pound bacon
20 ounces golden hominy
6 large eggs
1/2 teaspoons salt
1 dash pepper
Cook the bacon in a frying pan until crisp. Remove bacon and drain all but 2 Tb of bacon grease.

Drain the can of hominy and add to the bacon drippings. Fry over medium heat until hominy is lightly brown.

Beat together the eggs, salt and pepper. Add to hominy and cook, stirring frequently, until eggs are done.

Crumble bacon over the top and serve.

Try shredded cheese melted over the top too, if you want to.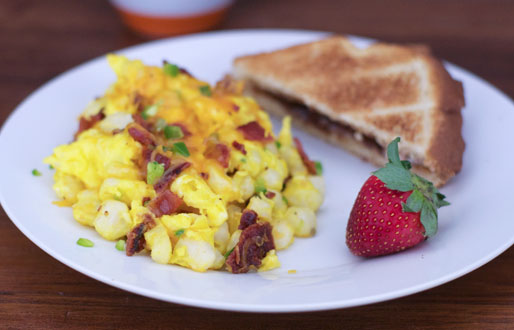 Note From Mr Breakfast:
I tried this scramble and I liked it quite a bit. It was very hearty and filling. The hominy adds a unique corn flavor that works well with the bacon and Cheddar.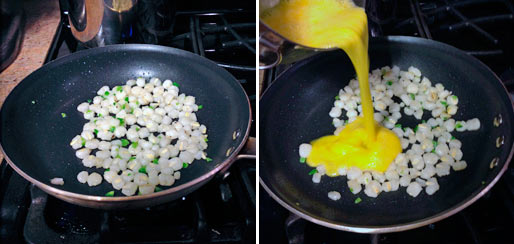 I changed the recipe just a little bit so it would make just two servings. I used 4 slices of bacon, half of a 15 ounce can of hominy and just 3 eggs.

The reduced amount of bacon didn't produce enough grease to fry the hominy in, so I added about 1/2 Tablespoon butter. The hominy never really browned but it was cooked through and delicious after 5 minutes. I also added just a teaspoon of chopped jalapeno in with the hominy to boost the flavor.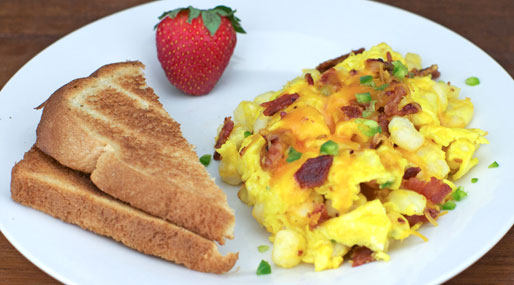 Hominy is an under-used ingredient that goes great in scrambles. It adds a real fresh and hearty corn flavor.




Mr Breakfast would like to thank scrambler for this recipe.

Recipe number 200. Submitted 5/5/2002.