Healthy Maple Oat Muffins

(18 servings)

1 and 1/2 cups all-purpose flour
1 cup whole wheat flour
4 teaspoons baking powder
1 teaspoon salt
1 and 1/2 cups old-fashioned oats
1/4 cup applesauce
1/4 cup canola oil
1/2 cup sugar
1 and 1/2 cups low-fat milk
1/2 cup maple syrup
These muffins got great reviews from everyone that I gave them to. With the exception of touch of extra wheat flavor from the whole wheat flour, theses healthy, egg-free muffins taste just as good as similar muffins that don't try to be health conscience. I should note that I did add a streusel topping and a maple glaze (recipes below) which might have masked the healthier aspects of the flavor. The one weird thing about this recipe is that it makes 18 muffins instead of the usual dozen. I embraced that and made some as normal muffins and some square muffins. I used the extra muffins to make a couple gift packs for friends. All in all, I liked this recipe a lot - maybe, in part, because it made pretty popular with my pals. (This recipe was submitted in 2007. It was tested and photographed in June 2015.)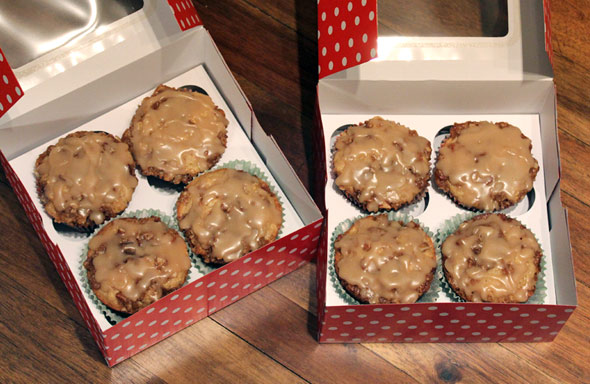 How To Make Healthy Maple Oat Muffins

Preheat oven to 350 degrees.

Prepare 18 regular-sized muffin cups with a thin coating of cooking spray.

In a large bowl, sift the flours with the baking powder and salt. Add the oats and mix well.

In a separate bowl, mix together the canola oil, applesauce and sugar. Add the applesauce mixture to the dry ingredients. Add the milk and maple syrup.

Stir all until just combined and moistened.

Fill each muffin cup about 3/4 full. Bake for 20 to 25 minutes until the tops are golden brown and a toothpick inserted into a muffin comes out clean (no batter).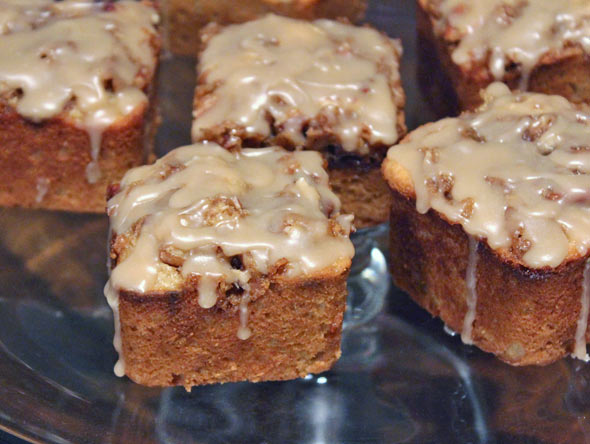 Optional Pecan Streusel Topping:

- 1/4 cup all-purpose flour
- 2 Tablespoons quick cooking oats
- 2/3 cup brown sugar packed
- 1/3 cup chopped pecans
- 1/4 teaspoon cinnamon
- 1/4 cup butter - melted

Mix all ingredients together with a fork (except butter). Add butter and stir with fork until mixture is like wet sand. Sprinkle over muffins before baking.


Optional Maple Glaze:

- 3 Tablespoons butter
- 1 and 1/3 cup powdered sugar
- 2 Tablespoon milk
- 1 teaspoon vanilla
- 1/2 teaspoon maple extract

Melt butter in a small sauce pan over medium-low heat. Stir in powdered sugar and milk. Turn off heat and stir in vanilla and maple extract. Drizzle over baked and cooled muffins.


An egg-free recipe with a dense healthy texture and lots of good maple flavor.




Mr Breakfast would like to thank KennyRogers for this recipe.

Recipe number 1998. Submitted 2/26/2007.