Sausage Puff

(8 servings)

1 pound ground sausage
1 and 1/2 cup milk
6 eggs - lightly beaten
2 cup shredded cheese (any kind)
1 Tablespoon dry mustard
1 and 1/2 cup Bisquick baking mix
This was pretty tasty. It was like a complete eggs, sausage and cheese breakfast in an eggy bread loaf. With the exception of having to brown the sausage ahead of time, it was very simple and quick to prepare. I could see this being exceptionally good served with a country gravy on top. I made my puff in a toaster oven and the cooking time was closer to 45 minutes, so I'd be sure to check for doneness around that time. I reserved a little of the cheese and sprinkled some over the top before cooking. I'd recommend that strategy. It made a nice cheesy, slightly-crisp crust on top. (This recipe was submitted in 2007. It was tested and photographed in September 2015.)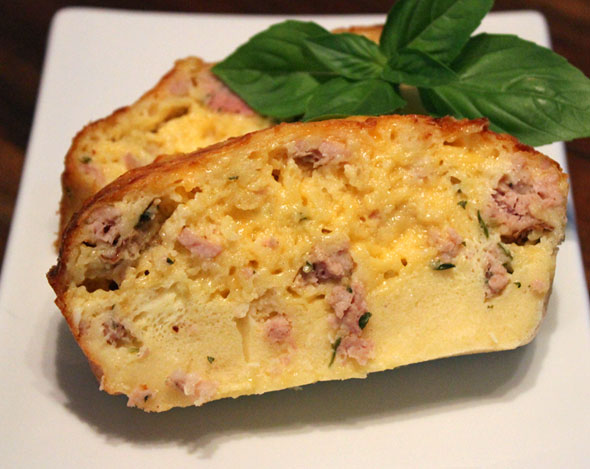 How To Make A Sausage Puff

Cook the ground sausage in fry pan until done.

Grease a long casserole dish (9 x 12-inch - give or take a few inches).

Pour ground sausage in bottom of dish and then add the 5 other items. Mix items together and bake in a 375 degree oven for 1 to 1 and 1/2 hours.

It's done when a fork (or toothpick) inserted into the center comes out clean.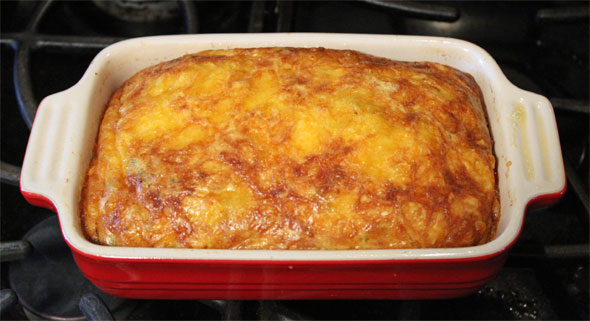 Note From Recipe Submitter:
My kids love this served with ketchup - April Barricks of New Castle, Indiana.

You can customize this sausage and egg casserole by using your favorite cheese. Swiss and Cheddar work great.




Mr Breakfast would like to thank icefiredragon88 for this recipe.

Recipe number 1991. Submitted 2/13/2007.