Blueberry Oatmeal Breakfast Cake

(9 servings)

1 cup all-purpose flour
1/3 cup whole wheat flour
3/4 cup quick cooking oats
1/3 cup sugar
2 teaspoons baking powder
1/4 teaspoon salt
3/4 cup low-fat milk (soy milk works fine)
1/4 cup applesauce
2 Tablespoons cornstarch
1 cup frozen blueberries - partially thawed
This is an egg-free coffee cake. It also has the potential to be dairy-free if you opt for soy milk. I found it to be moist and filling with lots of blueberry flavor. I added 1 teaspoon of vanilla extract to the wet ingredients for a touch more flavor. I also drizzled on some icing that I made from 3/4 cup powdered sugar, 1 Tablespoon milk and 1 teaspoon vanilla. It's a bit more dense than your average coffee cake, but as far as healthier morning breads go, this one gets a thumbs-up. (This recipe was submitted in 2007. It was tested and photographed in May 2014.)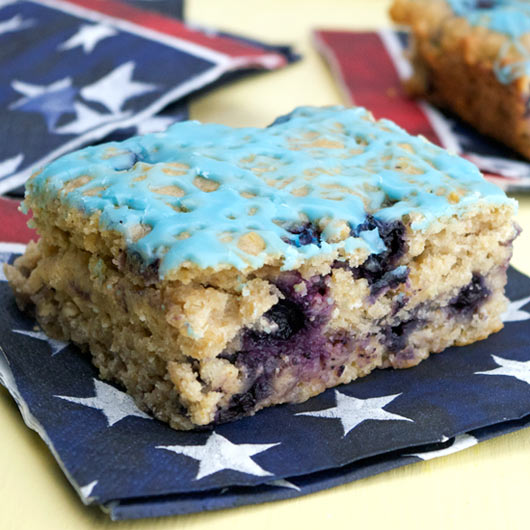 How To Make A Blueberry Oatmeal Breakfast Cake

Preheat oven to 400 degrees.

In medium bowl, combine the two flours, oats, sugar, baking powder and salt.

In a separate smaller bowl, combine soy milk, applesauce and cornstarch.

Add the wet ingredients to the dry ingredients and stir until just moistened. Fold in blueberries.

Spoon batter into a non-stick 8 x 8 baking pan.

Bake 25 to 30 minutes until a toothpick or knife-tip inserted in the center comes out clean (except for maybe a little bit of blue from the berries).

Allow cake to cool at least 10 minutes. Slice into 9 even-sized squares.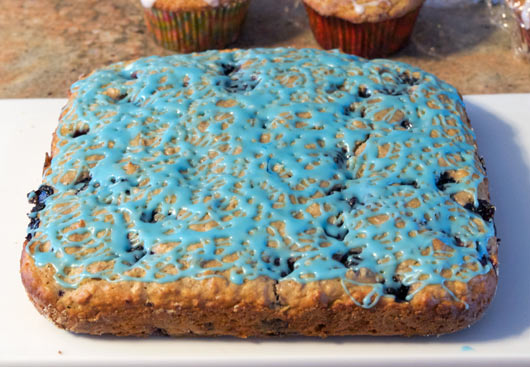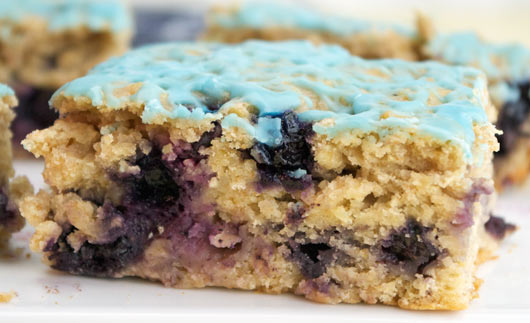 Kind of a cross between a coffee cake and a breakfast bar. Each serving has about 150 calories. Enjoy!




Mr Breakfast would like to thank Franklin for this recipe.

Recipe number 1967. Submitted 1/25/2007.