Creamy Maple Oatmeal

(4 servings)

3 cups water
1/4 teaspoon salt
1 and 1/2 cups Old Fashioned rolled oats
1/4 cup heavy cream
2 Tablespoons butter - softened
1 Tablespoon brown sugar - optional
4 Tablespoons maple syrup
4 Tablespoons raisins or dried cranberries
So many oatmeal recipes out there are incredibly similar. I've made variations on maple oatmeal about 500 times. The reason that this recipe is worthy of singling out is that when it says "creamy", it truly means creamy. The relatively modest amount of cream and butter in the recipe makes all the difference. What starts out as a run-of-the-mill maple oatmeal suddenly seems indulgent and definitely different from anything you would buy in packet form. I personally loved it. (Recipe submitted in 2007. It was tested and photographed in September 2013.)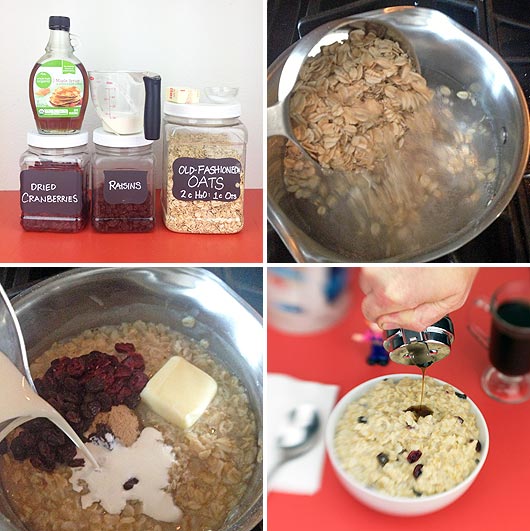 How To Make Creamy Maple Oatmeal

In a medium saucepan, bring water and salt to a boil.

Stir in the oats and reduce heat to medium. Cook until oats are tender - about 8 minutes - stirring often.

Remove oats from heat. Stir in the cream, butter, dried fruit and brown sugar, if using. Let set 2 minutes so the dried fruit will soften.

Divide oatmeal among four serving bowls. Drizzle each serving with a Tablespoon of maple syrup.


Each serving has about 350 calories. But if you're not on a diet, I really recommend adding 1 Tablespoon of vanilla ice cream or Cool Whip for the perfect final touch.




Mr Breakfast would like to thank Stephanie for this recipe.

Recipe number 1947. Submitted 1/2/2007.