Cinnamon Chocolate Chip Muffin Mix

(12 servings)

1 one-quart wide-mouth jar
2 and 1/4 cups all-purpose flour
3 teaspoons baking powder
1/2 cup white sugar
1/4 cup brown sugar
1/2 teaspoon salt
1 teaspoon ground cinnamon
1 cup semi-sweet chocolate chip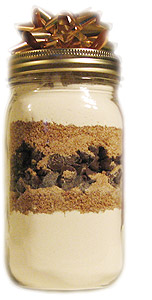 In a large bowl, mix together the flour, baking powder and salt. Pour half of this mixture into the jar and pack it down.

In a small bowl, mix together the sugars and cinnamon. Add this mixture to the jar. Follow this layer with the rest of the flour mixture. Pack down the layers and add the chocolate chips.

Seal the jar.

Note From Mr Breakfast:
When I created my jar, I layered the the chocolate chips between the flour and sugar layers. Next time, I'll put the chip at the top. The smaller ingredients tend to sprinkle down and obscure the chips layer. Good luck with your jar!




Attach these instructions to your gift of breakfast:



Cinnamon Chocolate Chip Muffins

(12 servings)
1 jar muffin mix
2 eggs - beaten
3/4 cup milk
1/3 cup vegetable or canola oil
1 teaspoon vanilla
Preheat oven to 375 degrees. Prepare 12 muffin cups with cooking spray or muffin papers.

Pour the muffin mix into a large bowl and stir to combine. In a seperate bowl, whisk together the eggs, milk, oil and vanilla. Add the wet ingredients to the mix and stir until just moistened.

Distribute the batter evenly into muffin cups. Bake for 20 to 25 minutes until a toothpick inserted into a muffin comes out clean.
Consider attaching a new spatula or pot holder to the gift jar for that final special touch.




Mr Breakfast would like to thank Mr Breakfast for this recipe.

Recipe number 1915. Submitted 12/4/2006.