Texas Cornbread Mix

(6 servings)

1 one-pint wide-mouth jar
3/4 cup yellow cornmeal
1 cup all-purpose flour
1/3 cup sugar
1 Tablespoon baking powder
1 teaspoon salt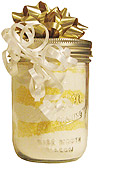 For The Mix:

In a large bowl, mix the flour, sugar, baking powder and salt together.

Create layers in the jar by alternating layers or the flour mixture and the cornmeal.

Seal the jar.





Attach these instructions to your gift of breakfast:



Texas Cornbread

(6 servings)
1 jar cornbread mix
1 cup milk
1 large egg - lightly beaten
1/4 cup canola or vegetable oil
Yee Ha! Preheat oven to 425 degrees. Prepare an 8" x 8" baking dish with a generous coating of cooking spray.

In a large bowl, stir together the ingredients from the jar. Add the milk, egg and oil and stir until just mixed (about 1 minute).

Bake for 20 to 25 minutes until a toothpick inserted into the center comes out clean.

Serve warm with butter. Enjoy y'all!
Yee haw! Y'all gotta love a good 'ol piece of cornbread with a nice Texas-sized breakfast.




Mr Breakfast would like to thank JimmyK for this recipe.

Recipe number 1914. Submitted 12/4/2006.