French Toast Fingers

(6 servings)

4 large eggs
1 cup milk
2 teaspoons vanilla extract
12 slices white bread (day-old is best) - cut into strips
powdered sugar
First off, I totally realize that French Toast Fingers sounds a little dirty. But if you put that aside, this is a fun way to enjoy a fairly standard French toast recipe in a slightly different way. Instead of drizzling your French toast with syrup, you dip skinny pieces into syrup. This recipe tasted great, but warning: Act fast when you dredge the bread through the egg mixture. The thinner bread pieces will get too moist and crumble if you leave them in too long. I got into a rhythm of saying "Drag, 1, 2... Flip, 1,2... Fry!" Bottom Line: This is a terrific recipe for kids. Adults might miss the pat of butter that fits so well on a slice of bread, but not so much on a strip of bread. (This recipe was submitted in 2006. It was tested and photographed in April 2017.)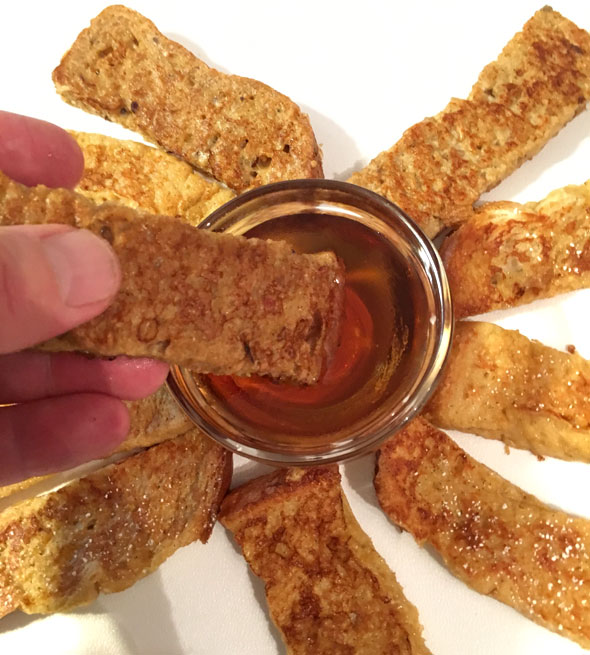 How To Make French Toast Fingers

In a wide, medium-sized bowl, beat the eggs, milk and vanilla together.

Heat a griddle or large frying pan to medium-high heat. Spray generously with cooking spray.

Dip each bread strip into the egg mixture.

Cook the strips until golden-brown on both sides.

Dust finished sticks with powdered sugar, if desired.

Serve with a small bowl of warm maple syrup.

Dip into syrup while still warm.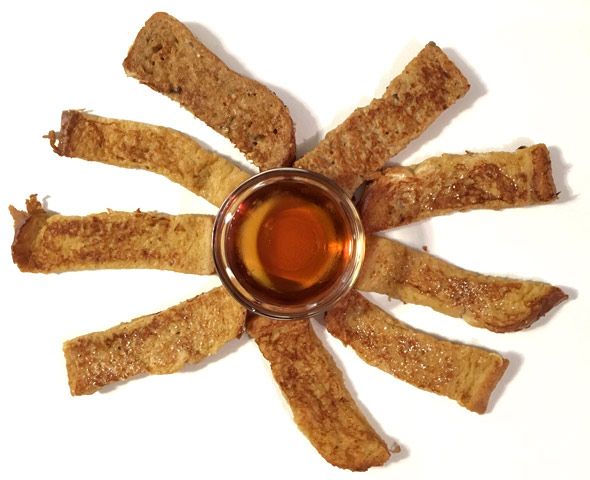 Cooking Notes From Mr Breakfast

I used a mix of white bread and whole wheat bread to make the fingers you see here.

If making many fingers to serve at once, keep them warm after frying by placing them on a cookie sheet in a 250 degree oven.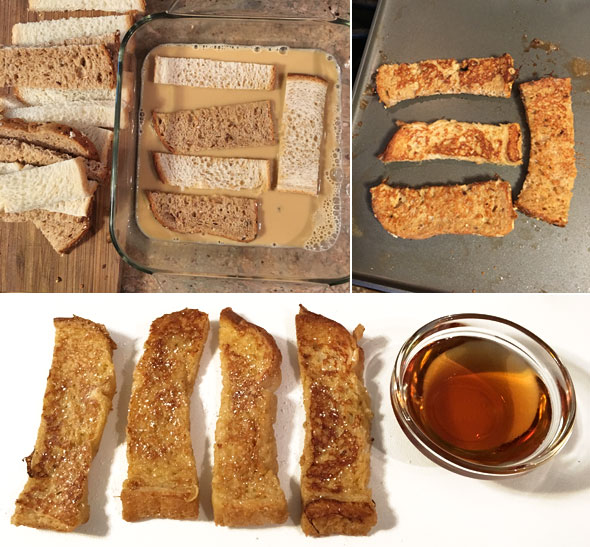 A real favorite for the kids. They sometimes call them French Toast Dippers. Adults will love them too.




Mr Breakfast would like to thank newjerseygal for this recipe.

Recipe number 1905. Submitted 11/28/2006.