Ham & Onion Scramble

(1 serving)

3 large eggs
1 teaspoon butter
1 teaspoon water
3 teaspoons milk
1/2 cup cooked ham
1 small onion
1 pinch pepper
1 pinch salt
This was a hearty, filling scramble. I would suggest a couple changes to the recipe as submitted. Rather than 1 small onion, I found 2 heaping Tablespoons of chopped onion worked great. There's no need for both water and milk. Just use 2 teaspoons of milk. The ratio of ham to eggs was quite high. Next time, I'd use 4 eggs and make 2 servings with this recipe. Lastly, this would have benefited from a sprinkling of shredded cheese added to the scramble right before plating. Overall: Tasty scramble that's easy to adjust to your tastes. (This recipe was submitted in 2006. It was tested and photographed in April 2014.)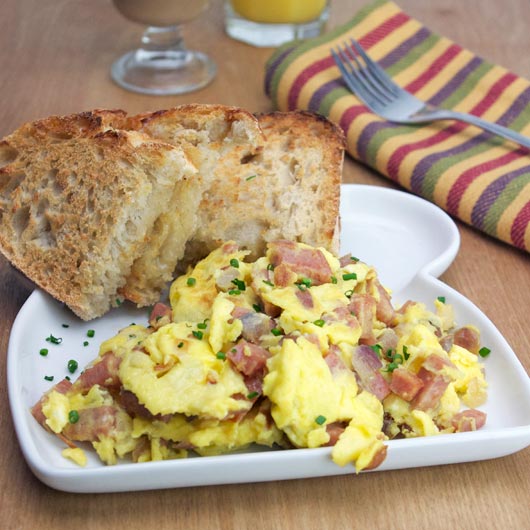 How To Make A Ham & Onion Scramble

Dice the ham and onion.

Beat the eggs with the water and milk. Add the diced ham and onion. Mix well.

Melt the butter in a frying pan over medium heat. Add the egg mixture and stir and scramble until the eggs are fully set.

Eat and enjoy!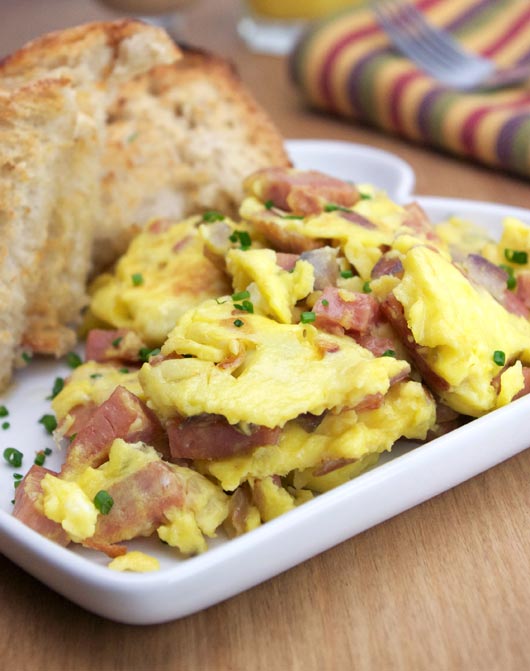 Around our house, we call this recipe 'The Scramble' - it's our go-to, quick egg dish from a recipe that been handed down through our family for years.




Mr Breakfast would like to thank Anonymous Breakfast Lover for this recipe.

Recipe number 1873. Submitted 10/29/2006.