Pumpkin Pie Muffins

(18 servings)

2 1/4 cups all-purpose flour
2 teaspoons pumpkin pie spice*
1 teaspoon ginger
1 1/2 teaspoons baking soda
1/4 teaspoon salt
2/3 cup raisins
1 cup packed brown sugar
1 cup canned pure pumpkin (not pie mix)
1/3 cup buttermilk
1/2 cup canola or vegetable oil
1/4 cup molasses
1 teaspoon vanilla extract
2 large eggs
2 Tablespoons granulated sugar
cooking spray
These muffins had a great texture, the perfect amount of sweetness and a nice overall pumpkin flavor. I topped mine with buttercream frosting, but that certainly wasn't necessary. They are very good on their own with no frosting or added butter. For a little added pizzazz, I folded 1/4 cup white chocolate chips into the final batter. It was a nice touch, but again... not necessary to make these muffins taste awesome. The recipe exactly as submitted (above) is a winner. I'll make these again for sure. (This recipe was submitted in 2006. It was tested and photographed in October 2015.)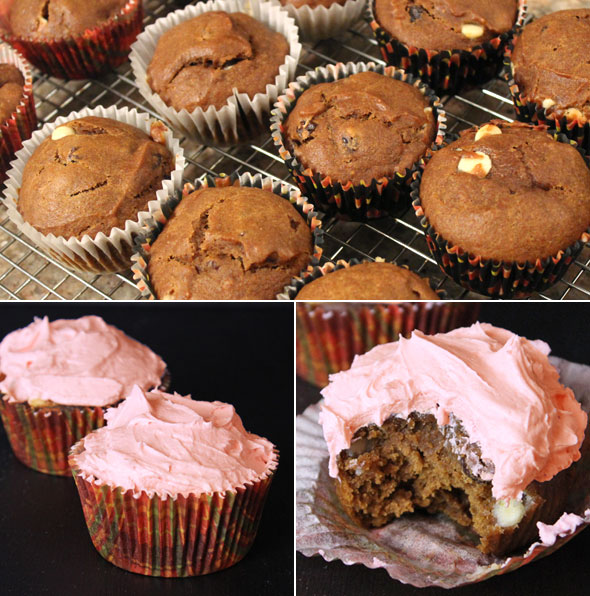 How To Make Pumpkin Pie Muffins

Preheat oven to 400 degrees. Prepare 18 regular-size muffin cups by lining with muffin papers or coating generously with cooking spray.

In a medium bowl, mix together the flour, spices, baking soda, ginger and salt. Stir in the raisins. Make a well in the center of the bowl with the dry ingredients.

In another bowl, combine the brown sugar, pumpkin, buttermilk, canola oil, molasses, vanilla and eggs, stirring well with a whisk.

Add the wet ingredients to the flour mixture and stir until just moistened.

Spoon batter into prepared muffin cups. Sprinkle each muffin with granulated sugar and bake at 400 for 15 minutes or until a toothpick comes out clean when inserted. Remove muffins from pans and cool on a wire rack.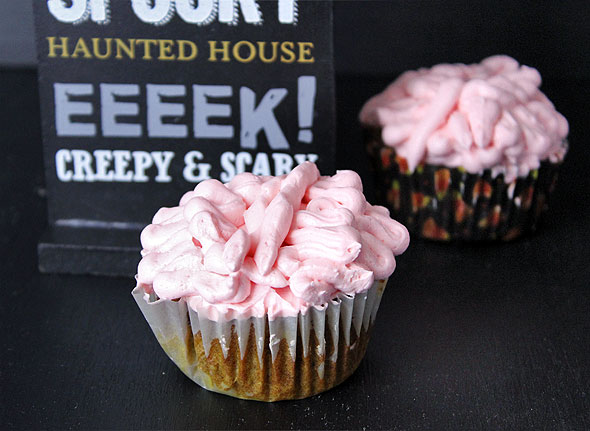 Cooking Note From Mr Breakfast

To top my muffins, I made a buttercream frosting by beating together 1/4 cup softened butter, 1/4 solid shortening, 1/2 teaspoon vanilla, 2 cups powdered sugar and about 1 Tablespoon milk. I divided the frosting and made some orange and the other half into a light pink - which I then piped onto some of the muffins in the form of a brain.

*If you don't have pumpkin pie spice, you can make your own by mixing together 1 teaspoon cinnamon, 1/2 teaspoon nutmeg and 1/2 teaspoon allspice or cloves.

Each muffin has 202 calories; 5.1 gram fat (0 saturated), 2 grams protein, 37.5 grams total carbs, 1.2 grams dietary fiber and 24mg cholesterol.

A muffin with genuine pumpkin flavor accentuated with pumpkin pie spices, molasses and ginger.




Mr Breakfast would like to thank discolover for this recipe.

Recipe number 1868. Submitted 10/26/2006.