Baked Pecan French Toast

(4 servings)

4 large eggs
2/3 cup orange juice
1/3 cup milk
1/4 cup sugar
1/4 teaspoon vanilla extract
1/4 teaspoon salt
1/8 teaspoon nutmeg
1/2 loaf Italian bread - cut into 8 1-inch slices
1/4 cup butter - softened
1/2 cup chopped pecans
2 tablespoons grated orange zest
I really liked the flavor of this French toast. The orange zest and cinnamon make almost as big of an impression as the pecans. After it baked for 20 minutes, I knew it was cooked through but I'd hoped the top would brown more. So... I put it under the broiler for just 90 seconds. That gave the added benefit of toasting the pecans more. It's a bit of bother refrigerating the French toast in a different pan than you use to bake it. But, if you like toasted pecans and French toast, the hassle is probably worth it. (This recipe was submitted in 2006. It was tested and photographed in June 2014.)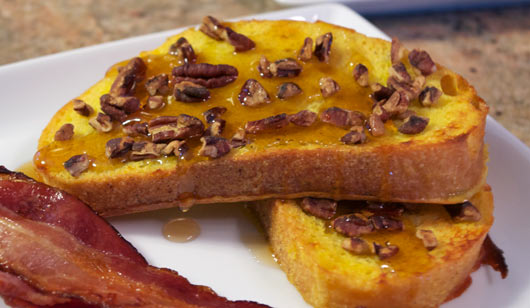 How To Make Baked Pecan French Toast

This recipe requires overnight preparation.

In a large bowl, beat the eggs with the orange juice, milk, sugar, vanilla, nutmeg and salt.

Place the bread slices flat and side-by-side in a wide baking pan. It's okay if you have to squeeze them in, but don't let them overlap. Pour the egg mixture over bread. Cover with plastic wrap and refrigerate overnight.

The next morning... preheat oven to 350 degrees.

Coat a rimmed baking sheet with the butter. Place the soaked pieces of bread on the baking sheet. Sprinkle evenly with pecans and orange zest.

Bake for 20 to 25 minutes until golden brown.

Serve with a pat of butter and warm maple syrup.


Nothing beats the taste of warmed pecans, especially when they're on tender, citrus-infused French toast and drizzled with maple syrup.




Mr Breakfast would like to thank DeeJay for this recipe.

Recipe number 1848. Submitted 10/7/2006.