Poached Haddock (U.K.)

(1 serving)

1 good tail end cut of un-dyed smoked haddock
1/2 cup of milk
a good knob of butter
cracked black pepper and parsley
poached eggs - optional
a nice doughy bread - optional
Fish is always good for you no matter how it is cooked or eaten. Through the centuries man has realized the benefits of "The food of the gods" for it's oils and high protein. Here we have a traditional British breakfast dish made popular in the early 1800s. - By Munch (Recipe Submitter)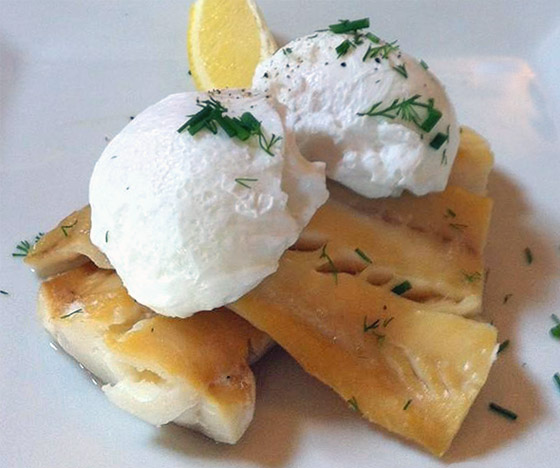 How To Make Traditional British Poached Haddock

Pour a little milk in a shallow pasta bowl and place the fish in it. Add the rest of the milk over the fish with the butter on top and cover with pierced cling - film. Microwave on full for 3 minutes and let stand for 1 min and then microwave further for 1 min. Take off the film being careful of the steam and add the pepper and parsley. That's it!

Serving Suggestion: Serve with 1 or 2 poached eggs on top and have bread on the side for dipping into the "liquor" and egg yolk. Now, you're eating well!

Tip: Ask your local fishmonger for the best cuts of haddock.


Traditional British breakfast dish that's best served on cold, rainy, winter mornings while drinking a good cup of Rosie Lee tea.




Mr Breakfast would like to thank munch for this recipe.

Recipe number 1830. Submitted 9/2/2006.