Maple Bacon Grits

(2 servings)

1/2 cup quick grits
1/2 cup maple syrup
1 cup water*
1 cup milk*
2 teaspoons butter
4 slices bacon - cooked and crumbled
dash salt
I absolutely LOVED this dish. I don't capitalize "love" often, but there was something special in how these sweetened grits put a spotlight on the flavor of the bacon. There's nothing fancy here, but the buttery maple flavor acts as sort of a Best Supporting Actor to bacon's Best Actor of All-Time status. I used a nice Applewood Smoked Bacon for the topping. I reduced the maple syrup to 1/4 cup and increased the butter to a Tablespoon. You can adjust those ingredients to taste since they're added after the grits are cooked. (This recipe was submitted in 2006. It was tested and photographed in March 2014.)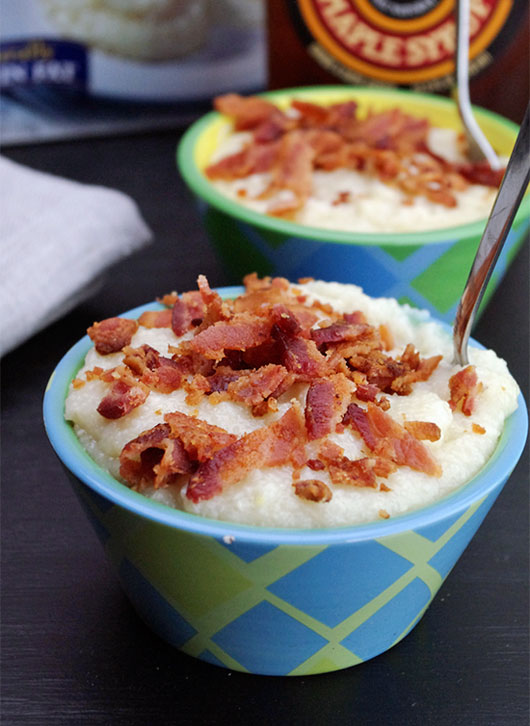 How To Make Maple Bacon Grits

Prepare the grits according to package instructions. The liquid content may differ from that in this recipe. If so, follow package instructions. But if given the option, a mix of milk and water makes the grits much creamier than water alone.

When the grits have absorbed most of the liquid, stir in the maple syrup and butter.

Remove from heat and cover. Allow grits to thicken at least 5 minutes.

Distribute to 2 bowls. Sprinkle evenly with crumbled bacon and serve.


Everything is better with crumbled bacon! The combination of maple, bacon and buttery grits makes this a unique and tasty breakfast.




Mr Breakfast would like to thank mr_bfast_lover for this recipe.

Recipe number 1820. Submitted 8/23/2006.