Mexican Breakfast Stack

(6 servings)

4 10-inch flour tortillas
6 large eggs
1/2 teaspoon salt
1/2 small bell pepper - thinly sliced
1 4-ounce can sliced mushrooms* - drained
5 green onions - chopped
1 and 1/2 cups shredded Cheddar cheese (or Mexican blend)
1/4 pound thinly sliced ham
1 small tomato - thinly sliced
This was a terrific breakfast with lots of flavor. I was impressed how all the layers worked together and how the flour tortillas became integrated into the dish. I made a few minor adjustments to the recipe as submitted which I will detail below. If you're looking for a strata-type breakfast dish with a nod to the flavors of Mexico, look no further. You found it. (Recipe submitted in 2006. It was tested and photographed in November 2013.)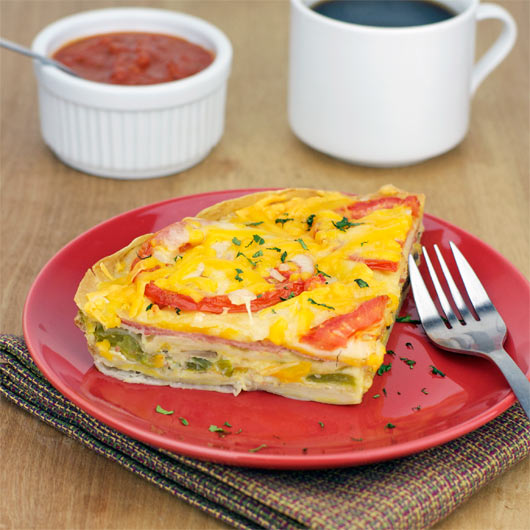 How To Make A Mexican Breakfast Stack

Preheat oven to 375 degrees.

Prepare a 10-inch pie plate with light coating of non-stick spray.

Line bottom of pie plate with 1 tortilla.

In a medium bowl, beat the eggs and salt. Pour eggs into lined pie plate. Place a second tortilla on top of egg layer.

Spread bell pepper, mushrooms and green onion on top of the second tortilla and top with 1/3 of the cheese.

Place the third tortilla over the vegetables. Placed sliced ham on top of this and sprinkle with 1/3 the cheese.

Place the last tortilla over the ham. Place sliced tomato on top. Sprinkle with remaining cheese.

Bake for 35 to 45 minutes or until eggs are set.

Remove from oven and allow to stand 5 minutes.

Slice into 6 wedges.

Serve with your favorite salsa.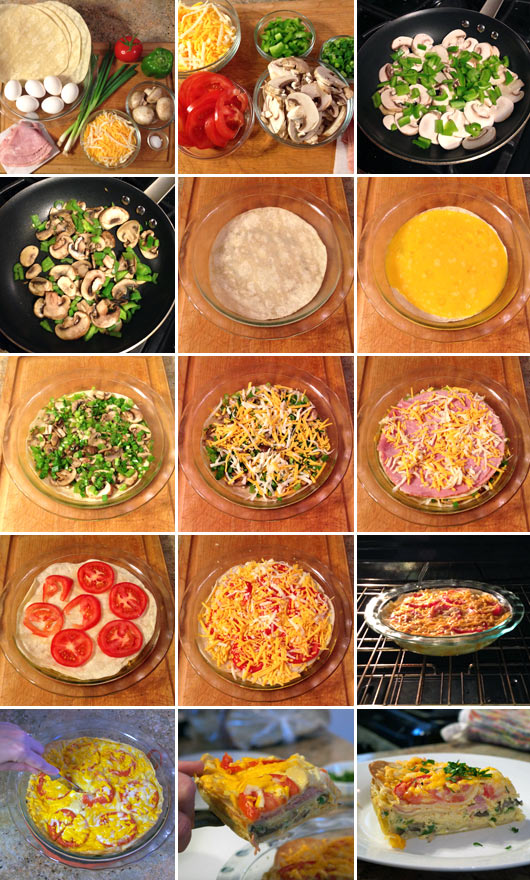 Cooking Notes:

*I used fresh button mushrooms instead of the canned ones. I found that 5 mushrooms came out to the recommended 4 ounces.

It's not necessary, but I sauteed the mushrooms and bell pepper in 2 teaspoons of olive oil for about 8 minutes. I find that it brings out more of the flavor in both vegetables.

I was worried that the amount of green onion would be too much, so I cut that back to 3 green onions. That was a mistake. Mine could have used more onion flavor. So, stick to the recipe on that one.

An indication that breakfast stack is fully cooked is that it will begin to puff up a bit in the middle. I recommend that you examine the egg layer and make sure there's no more liquid.

My total cooking time was about 45 minutes. The recipe originally stated 25 minutes, but I've changed that in the directions above because it was a pretty serious difference.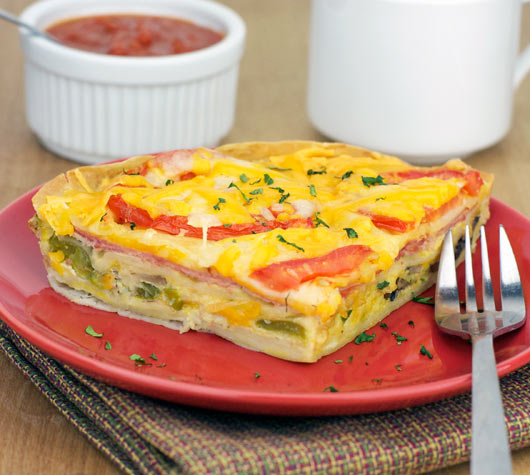 This is kind of like a Mexican breakfast lasagna with ingredients placed between layers of flour tortillas.




Mr Breakfast would like to thank IrishNick for this recipe.

Recipe number 1797. Submitted 7/25/2006.