Banana Breakfast Sundaes

(4 servings)

2 ounces bittersweet chocolate - chopped
2 ripe bananas - peeled and halved
2 6-ounce cups of vanilla lowfat yogurt or 2 cups vanilla frozen yogurt
1/4 cup low-fat granola
blueberries
This breakfast tasted so much like dessert, I might start having it for dessert. It's basically a sundae with the ice cream replaced by granola. It doesn't taste healthy, despite having some healthy ingredients. You might be inclined to add more chocolate than the recipe indicates. I'd try to avoid that inclination. A little chocolate goes a long way and you only need a light drizzle to get chocolate in every bite. As pretty as parfaits can be, I enjoyed this dish best when I dumped everything in a bowl and stirred it all together. (This recipe was submitted in 2006. It was tested and photographed in March 2014.)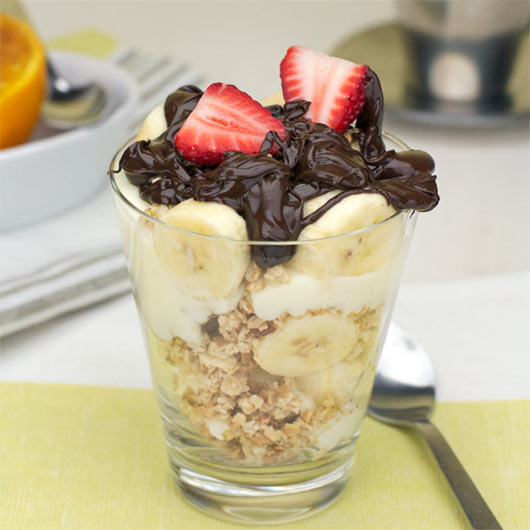 How To Make Banana Breakfast Sundaes

In a small saucepan, heat chocolate until just melted. (Or place in microwave-safe bowl and heat on 70% power for 1 1/2 minutes stirring every 30 seconds.)

In separate bowls, place two banana quarters and top with yogurt, drizzle with melted chocolate, sprinkle with granola and top with blueberries.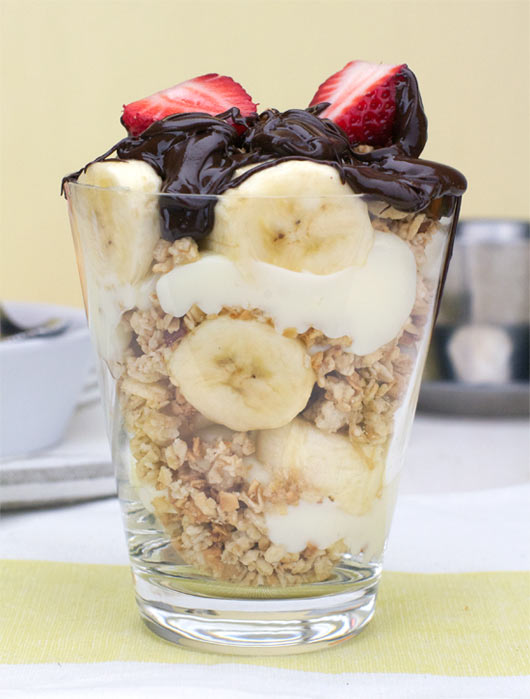 Each serving: 218 cal, 7g fat (4g saturated), 4 mg cholesterol, 73 mg sodium, 38g carb, 3g fiber, 6g protein.


Everything that's great about a Sundae but this one is made with lowfat yogurt, granola and fruit.




Mr Breakfast would like to thank mrbreakfast_lvr for this recipe.

Recipe number 1796. Submitted 7/24/2006.