Banana Bread Pancakes

(10 servings)

2 medium firm ripe bananas - peeled and sliced
1 Tablespoon granulated sugar
2 cups buttermilk complete pancake mix
1 cup water
1 cup mashed very ripe bananas
1 teaspoon ground cinnamon
1 cup syrup warmed - optional
1/2 cup coarsely chopped pecans - optional
I was bananas about these banana pancakes. Granted, I took the recipe as submitted to a different level. Rather than pecans and maple syrup, I topped mine with homemade Bavarian cream (recipe coming soon), banana slices and blueberries. It was a genuinely awesome explosion of bananas! The pancakes from the recipe as submitted are terrific. No matter how you top them, I think you'll be happy with the results. (Recipe submitted in 2006. It was tested and photographed in September 2013.)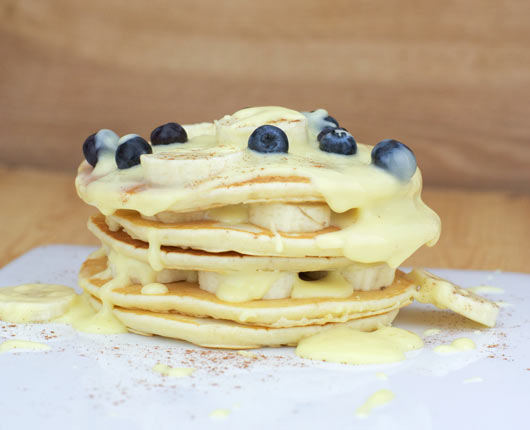 How To Make Banana Bread Pancakes

Combine sliced bananas and sugar in small bowl; set aside

Combine pancake mix, water, mashed bananas, and cinnamon in medium bowl; stir with wire whisk until large lumps disappear. For each pancake, pour 1/4 cup batter onto hot lightly greases griddle; top with 3 to 4 banana slices. Turn when bottoms are golden grown.

Serve topped with warm syrup and pecans

Makes about 10 5-inch pancakes.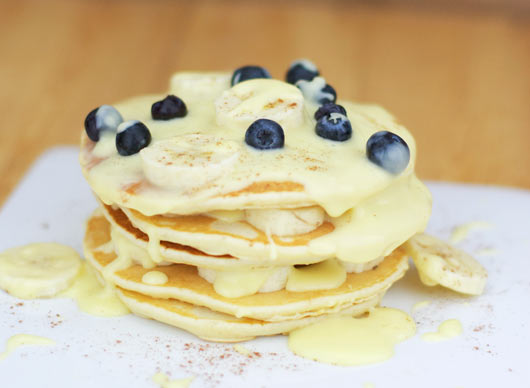 Note From Recipe Submitter:

I have made this recipe so many different ways. I have mixed the banana slices in the batter. I've mixed the pecans in the batter. I have just put the banana slices with sugar on top the cooked pancakes. I put the sugar in the mixed batter instead of with the bananas. I've used whole pecans and finely chopped pecans. Once, I didn't add the cinnamon. I have made so many mistakes with this recipe yet everyone has always loved them no matter what way I've made them. They're always a big hit!


These pancakes are bursting with bananas! They have mashed banana in the batter and sliced bananas embedded as they cook.




Mr Breakfast would like to thank Cadcd for this recipe.

Recipe number 1780. Submitted 6/26/2006.