Bacon Mushroom Frittata

(6 servings)

5 large eggs - beaten
8 slices bacon - cooked and crumbled
2 cups fresh mushrooms - sliced
1 cup onion - chopped
3/4 cup sour cream
1 teaspoon oregano
1/2 teaspoon salt
1/8 teaspoon ground black pepper
1/3 cup shredded Cheddar cheese - optional
I made this as breakfast-for-dinner and it was a big hit. I decided to use the optional cheese. The only change I made to the recipe as submitted was that I used a teaspoon each of fresh chopped basil and chopped thyme. I was out of oregano. I thought the amount of bacon and mushrooms was perfect. I also liked that the egg had a texture somewhere between a firm quiche and softer scrambled eggs. I wouldn't hesitate to make this again. It was tasty, satisfying and fairly easy to put together. (This recipe was submitted in 2006. It was tested and photographed in June 2016.)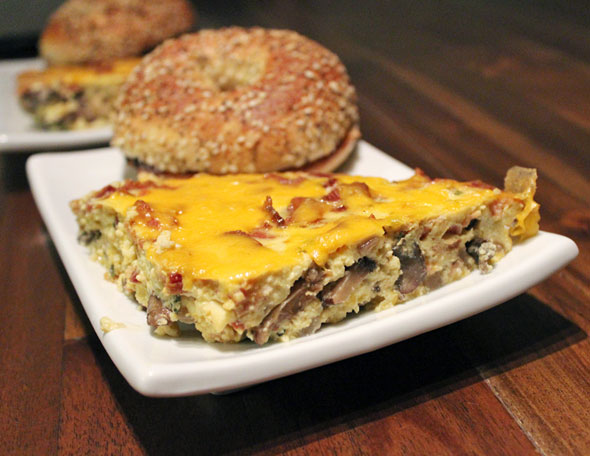 How to Make a Bacon Mushroom Frittata

Preheat oven to 425 degrees. Prepare a pie tin with a generous coating cooking spray.

In a large skillet over medium heat, saute mushrooms and onions in 1 Tablespoon of cooking oil or bacon drippings. Stirring occasionally, cook until onions are tender and clear and mushroom are lightly browned. Remove from heat and set aside.

In a medium mixing bowl, combine eggs, sour cream and seasonings and mix well.

Pour egg mixture into prepared pie tin. Stir in onions and mushrooms. Sprinkle evenly with crumbled bacon.

Bake for 15 minutes at 425 degrees.

Reduce heat to 300 degree and bake 10 more minutes or until eggs are completely set.

Remove from oven. IF DESIRED, sprinkle with shredded cheese immediately so it will melt.

Allow to cool 10 minutes. Slice into wedges and serve warm.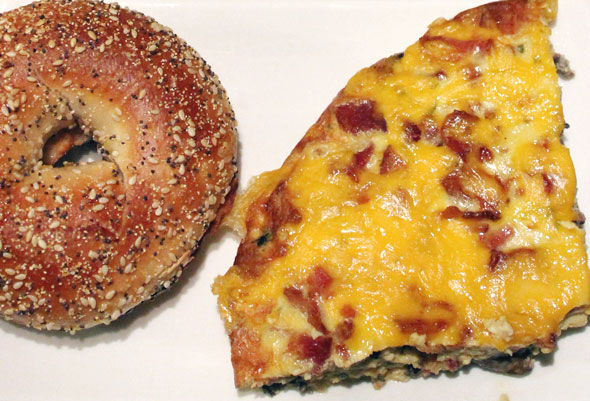 Cooking Note From Mr Breakfast

After 15 minutes (when I reduced the oven temperature), I covered the frittata loosely with aluminum foil as I noticed the edges already beginning to brown. My total cooking time was closer to 30 minutes as opposed to the 25 minutes mentioned above.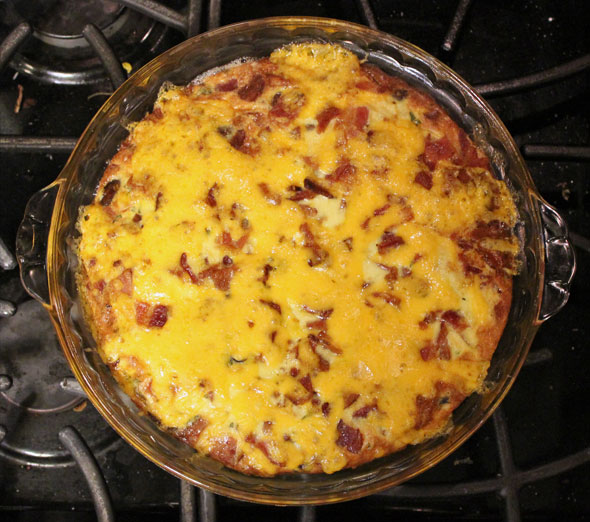 Good for dinner too. If you like, you can sprinkle with shredded cheese (about 1/3 cup) right after you remove the dish from the oven.




Mr Breakfast would like to thank Bennett for this recipe.

Recipe number 1761. Submitted 6/7/2006.