Microwave Breakfast Casserole

(1 serving)

1 large egg - lightly beaten
1 slice day-old bread - cubed
1/4 cup cooked ham - diced
3 Tablespoons milk
3 Tablespoons shredded Cheddar cheese
1/4 teaspoon dry mustard
1/8 teaspoon salt
1/8 teaspoon pepper
1 dash Worcestershire sauce
Good news! This works. I would recommend a couple changes to the recipe as submitted. Most importantly, the 5 minute cooking time may be too long for some microwaves. I found that the egg was completely cooked through and that the casserole was more tender after 4 minutes and 20 seconds. Do yourself a favor and check it at the 4 minute mark. Second, skip the salt. The ham and Worcestershire sauce add all the salt you need. The instructions ask you to use a 6 x 6-inch baking dish. I don't have one one of those, so I used a bowl with a 5-inch diameter - which I coated with cooking spray. Finally, you can get away with only using one bowl for this recipe. Just beat the egg and milk together with a fork in a bowl. Mix in the other stuff, cover, poke and microwave. Super easy! (This recipe was submitted in 2006. It was tested and photographed in January 2014.)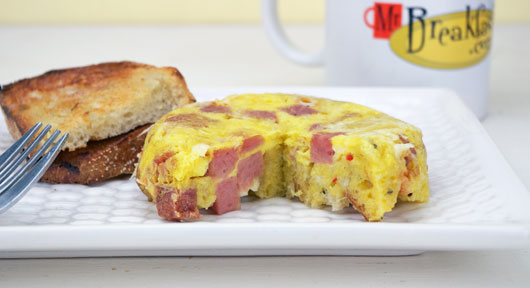 How To Make A Microwave Breakfast Casserole

In a large bowl, mix all ingredients until well blended. Don't over mix or the bread pieces will disintegrate.

Pour into a 6x6 microwave safe pan. Cover pan tightly with plastic wrap. Poke a couple holes in the plastic for venting.

Microwave on medium-high (75%) for about 5 minutes until egg is set. Rotate the pan midway through cooking if your microwave doesn't auto-rotate. Let the casserole set in the microwave a minute or two once cooking is complete.

Invert pan to release casserole. Serve warm.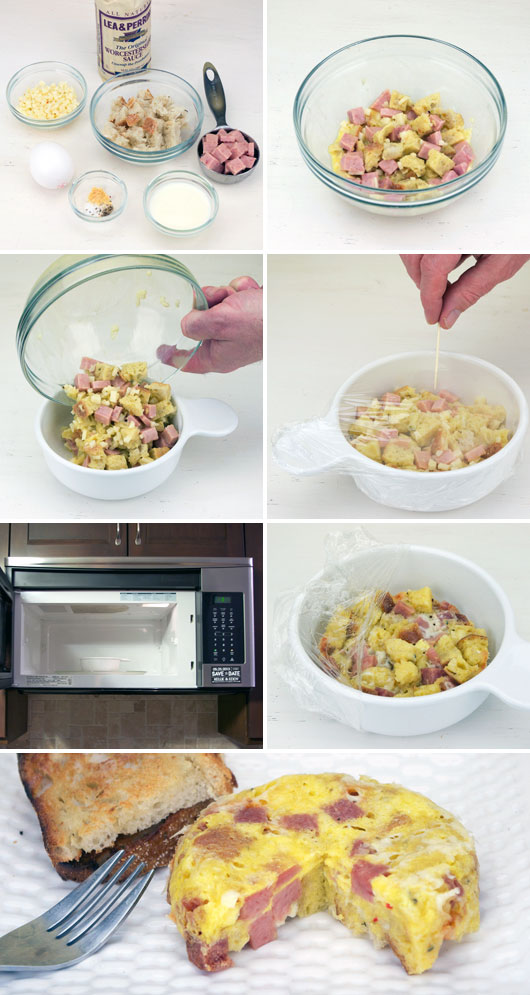 You can make this the night before and microwave when needed. Pop it in the microwave. Take your morning shower. Then sit down to breakfast. Pretty cool.




Mr Breakfast would like to thank BethH for this recipe.

Recipe number 1737. Submitted 5/9/2006.