Peanut Butter & Jelly Muffins

(12 servings)

1 cup whole wheat flour
3/4 cup all-purpose flour
3 and 1/2 teaspoons baking powder
1/2 teaspoon salt
1/3 cup sugar
2 large eggs
1 cup low-fat milk
1/4 cup butter - melted
1/4 cup creamy peanut butter
1/4 cup of your favorite jam or jelly
This recipe was submitted to the site by 'RichH' back in 2006. I tested it and photographed the muffins this morning (August 2013). Overall, I liked them quite a bit. I used advice from the recipe's comments and stirred 1/4 cup of peanut butter into my wet ingredients and also dolloped peanut butter in the center of each muffin. I would suggest 2 slight changes to the recipe as submitted. Add a teaspoon of vanilla to your wet ingredients and switch the amounts of all-purpose and whole wheat flour. The muffins were just a little too healthy tasting which detracted from the PB&J. With those changes, I think you'll like this one.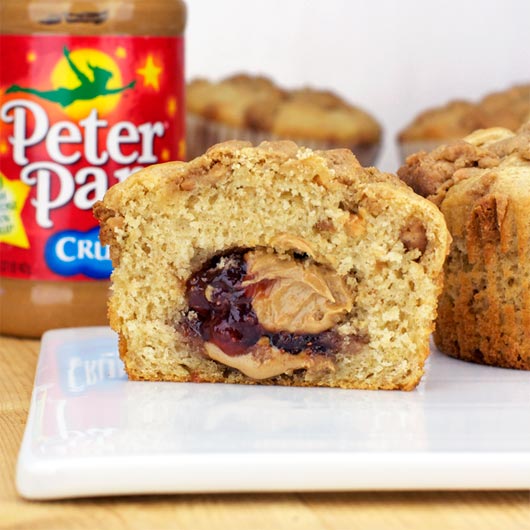 How To Make Peanut Butter & Jelly Muffins

Prepare 12 regular muffin cups with muffin papers. (You could also do 5 giant-size muffins).

Preheat oven to 375 degrees.

In a large mixing bowl, sift together the flour, sugar, baking powder and salt.

In a small bowl, beat the egg with with the milk and melted butter.

Add egg mixture to the dry ingredients and mix until just combined and moistened.

Fill each muffin cup about 1/3 full with batter. Spoon 1 teaspoon of peanut butter and 1 teaspoon of jelly in the center of each muffin. Top with equal amounts of remaining batter so the cups are about 2/3 to 3/4 full.

Bake at 375 degrees for 20 to 25 minutes or until golden brown. If a toothpick inserted into the center of a muffin comes out dry (no batter), the muffins are done.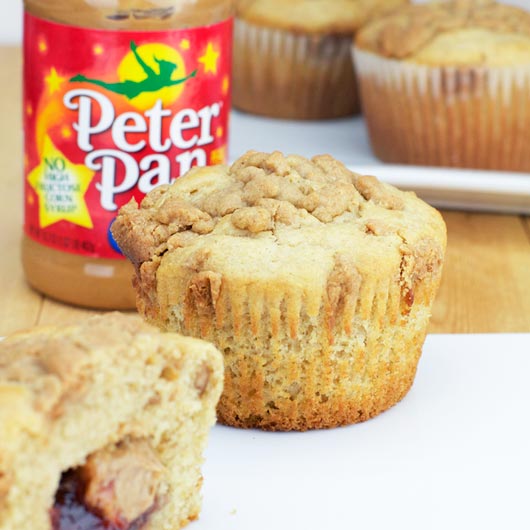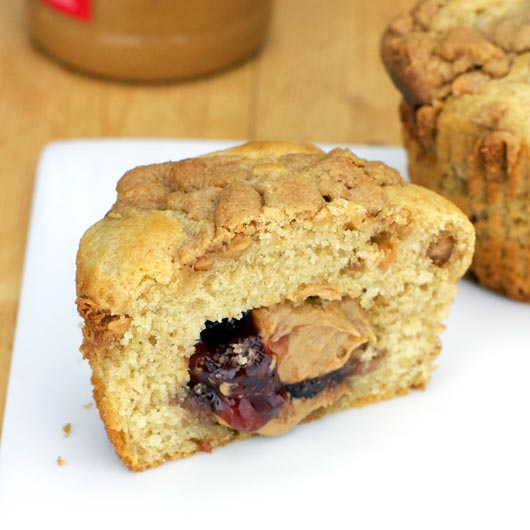 If you wanted, you could mix the peanut butter with the wet ingredients... but if you spoon it in the middle of each muffin, it makes for a nice peanut butter and jelly center.




Mr Breakfast would like to thank RichH for this recipe.

Recipe number 1724. Submitted 4/19/2006.