Pumpkin Oat Muffins

(12 servings)

1 cup all-purpose flour
1 cup quick-cooking oats
3/4 cup canned mashed pumpkin
1/2 cup brown sugar - packed
1/2 cup raisins
1/4 cup + 2 Tablespoons milk
1/4 cup vegetable or canola oil
1 large egg
1 teaspoon vanilla
2 teaspoons baking powder
1 teaspoon pumpkin pie spice
1/2 teaspoon salt
1/4 teaspoon baking soda


For The Topping:
1/2 cup brown sugar
1 Tablespoon all-purpose flour
1/4 teaspoon pumpkin pie spice
2 Tablespoons butter
Despite a couple good reviews from site visitors, I have to admit that these were not my favorite muffins. They were fine, but they lack a certain magic. The bottoms were slightly greasy. If I make these again, I'm swapping the oil for melted butter and increasing the amount of brown sugar to 2/3 cup. I'd also be inclined to use 1 and 1/2 cups flour and just 1/2 cup oats. If you try these or any other alterations, please let us know how it goes in the comments below. (Recipe submitted in 2006. It was tested and photographed in November 2013.)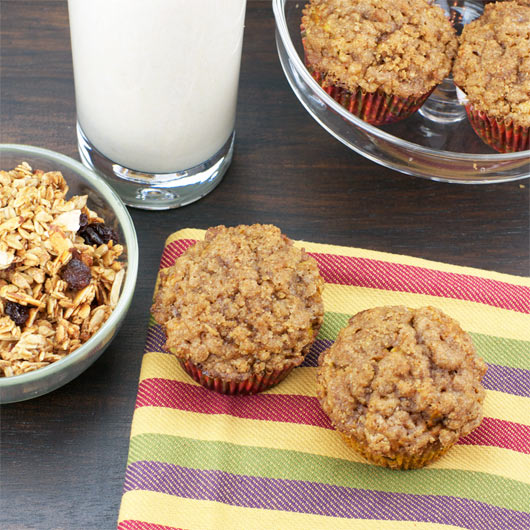 How To Make Pumpkin Oat Muffins

Prepare 12 regular muffin cups with muffin papers or a light coating of cooking spray.

Preheat oven to 400 degrees.

Make crumb topping in a bowl by mixing all topping ingredients together until crumbly. Set aside.

In a large bowl, sift together the flour, baking, powder and baking soda. Mix in the oats, pumpkin pie spice and salt.

In a separate medium bowl, beat the egg slightly. Add pumpkin, brown sugar, milk, oil and vanilla. Mix well.

Add wet ingredients to dry ingredients and mix until just mixed and moistened. Fold in raisins.

Spoon batter into prepared muffin cups, filling each about 2/3 full.

Sprinkle topping mixture evenly over muffins.

Bake for 18 to 20 minutes or until golden brown. If a toothpick inserted into the center of a muffin comes out dry (no batter), the muffins are done.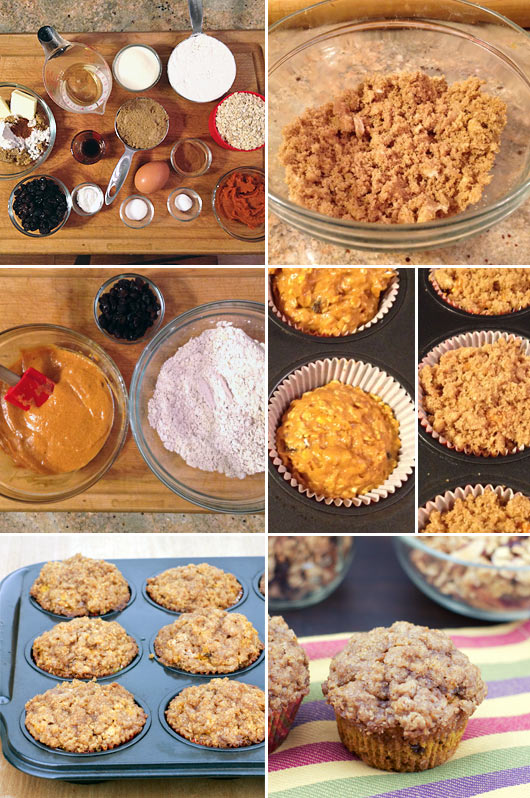 Advice From Mr Breakfast:

If you're looking for a way to use a can of pumpkin puree, my advice is to skip this recipe and make Pumpkin French Toast and a Pumpkin Smoothie instead. I've tested both those recipes and they're my favorite pumpkin breakfast items so far.


To Make Your Own Pumpkin Pie Spice:

Just mix together 1 teaspoon of cinnamon with 1/4 teaspoon ground nutmeg, 1/4 teaspoon ground ginger and 1/4 teaspoon ground cloves.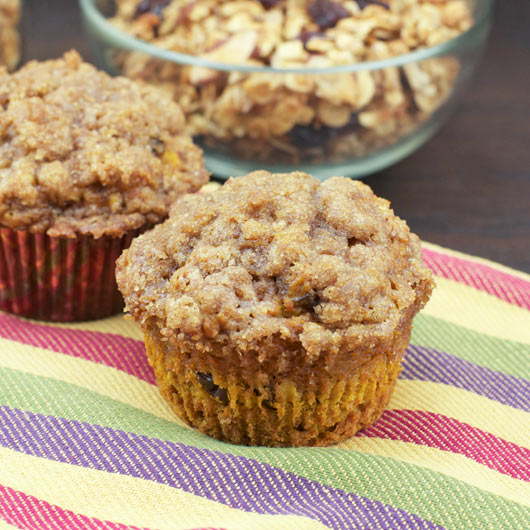 This recipe makes 12 muffins. Delicious pumpkin flavor with raisins and a brown sugar pumpkin pie crumb topping.




Mr Breakfast would like to thank CornFlake for this recipe.

Recipe number 1721. Submitted 4/16/2006.