Spam Breakfast Burritos

(6 servings)

1 12-ouce can of Spam luncheon meat - cubed
6 flour tortillas
5 large eggs
1 cup shredded Cheddar cheese
1 cup shredded Monterey Jack cheese
2 Tablespoons milk
1 Tablespoon butter
1/4 teaspoon salt
your favorite salsa - to taste
I admit it... I love Spam. On those mornings when I want meat, but don't have time to cook bacon or sausage, it's great that I can reach for a can of Spam and satisfy my meat craving in minutes. This burrito was a nice showcase for Spam. You fry it up, add some eggs and chuck it in a tortilla with cheese... wham... bam... breakfast! I loved the extra step of melting cheese on top in the oven. The extra cheese was great, but the added time in the oven brought all the flavors together for an an extra good burrito. (This recipe was submitted in 2006. It was tested and photographed in November 2014.)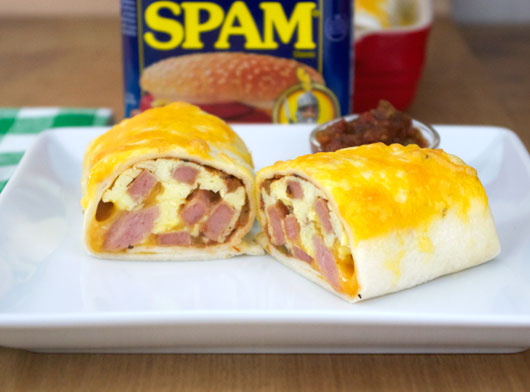 How To Make Spam Breakfast Burritos

Preheat oven to 400 degrees. Have an ungreased medium baking pan (12x8) ready.

In medium bowl, beat the eggs with the milk and salt.

Heat a large skillet over medium-high and melt the butter. Add the cubes of Spam and fry until lightly browned - stirring occasionally. Add the egg mixture and stir. As the eggs start to set, stir occasionally to scramble until fully cooked.

Fill each tortilla with equal portions of the Spam and eggs and some of the cheese. Save about half the cheese for topping. If desired, spoon some salsa over the fillings.

Roll the burritos and place them in the baking pan with the seam sides down.

Sprinkle remaining cheese equally over the burritos in the pan.

Bake for 5 to 10 minutes until cheese topping is melted.

Serve with salsa.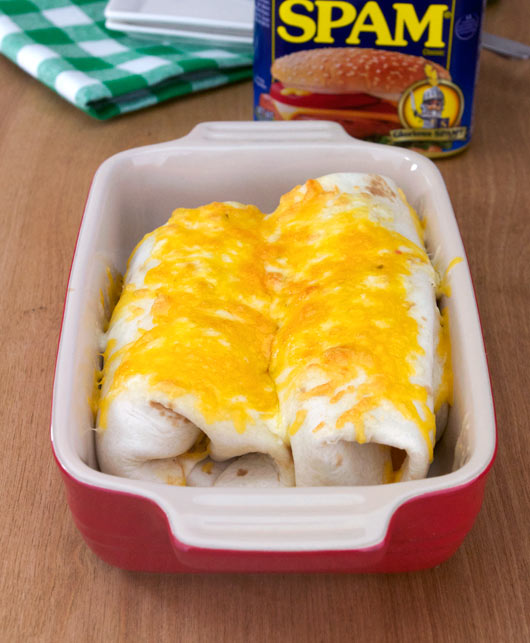 Six more reasons to love Spam! These burritos have eggs, 2 kinds of cheese, salsa and plenty of Spam. Enjoy!




Mr Breakfast would like to thank TexasMike for this recipe.

Recipe number 1716. Submitted 4/13/2006.