Easy Fruity Porridge

(2 servings)

1/2 cup of rolled porridge oats
1 cup of water
1 ripe banana
1 small eating apple - cored and peeled
3 strawberries
This was easy to make as the name suggests. It tasted very nice, but would be even better with any or all of the following: 1 Tablespoon brown sugar, 1/2 teaspoon cinnamon or 1/2 teaspoon vanilla or maple extract. When originally submitted, this recipe indicated it was 1 serving. I found that it was easily 2 servings, so I changed that in the recipe. I served my porridge with a pat of butter and a splash of milk. I would make this again with the changes mentioned and... shhhhh... I'd sneak in 1 Tablespoon of vanilla ice cream to melt into the warm oats. (This recipe was submitted in 2006. It was tested and photographed in May 2017.)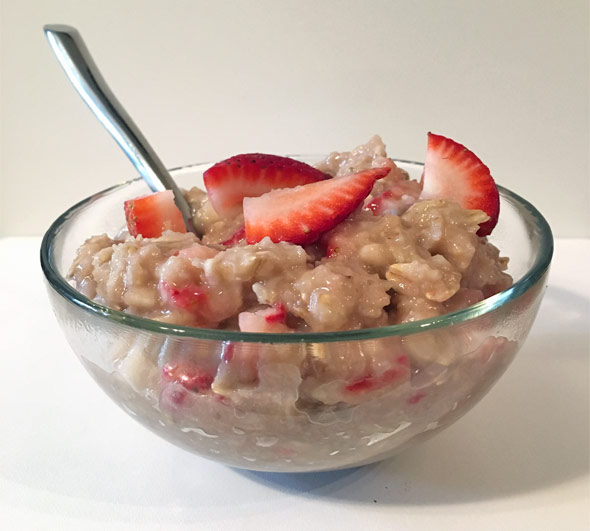 How To Make Easy Fruity Porridge

Slowly bring the oats and water to a boil in a saucepan. In a blender or smoothie maker, blend the banana and apple until liquidized. Add strawberry and pulse to chop. Pour fruit mixture into the porridge and bring to a boil again and immediately reduce heat to a simmer. Cook until oats are tender - about 1 minute.

Serve with plain yogurt or some sugar for even more sweetness!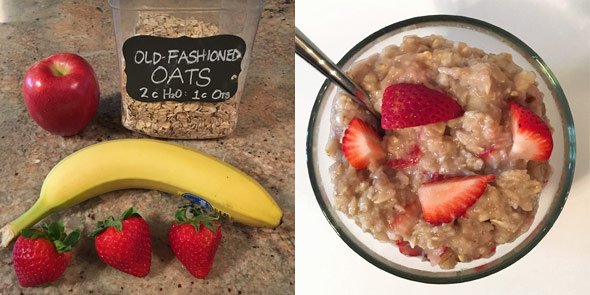 This is very filling and warms you up on a cold day!




Mr Breakfast would like to thank recordwindow for this recipe.

Recipe number 1694. Submitted 4/2/2006.