Microwave Egg-A-Muffin

(1 serving)

1 slice Canadian bacon
1 English muffin
1 slice American cheese
1 teaspoon butter
1 large egg
This quick, microwave Egg McMuffin-style sandwich recipe was submitted to the site back in 2006. I've made it several times since then and can vouch for the results. The only change I make is that I like to use a small (3 and 1/2 inch diameter) bowl to make the egg patty. I microwave the (slightly beaten) egg for 30 seconds, give it a stir and then continue microwaving in 15 second intervals until the egg is completely set. This sandwich really is as easy as it looks. (Photographed July 2013)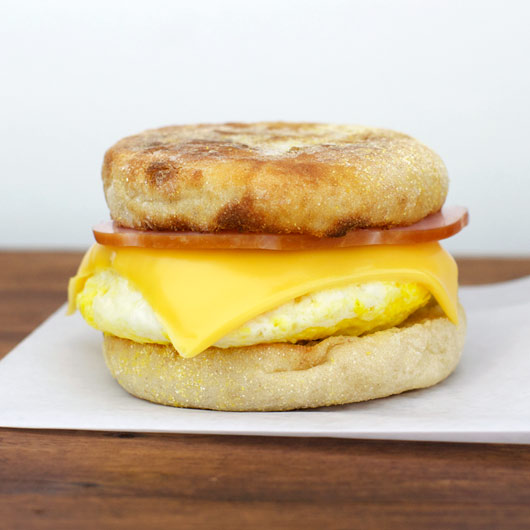 How To Make A Microwave Egg-A-Muffin

Place butter in a coffee cup and melt in the microwave. Swish the liquid butter around the cup a little. Now, crack the egg into the coffee cup; cover with a paper towel, and microwave for about 45-60 seconds.

Meanwhile, toast and butter your English muffin.

After the egg is cooked, heat the English muffin with cheese and Canadian bacon on each slice for about 15 seconds. Run a knife around the edges of the egg and dump out onto English muffin; and create your egg-a-muffin sandwich.


This is my version of the breakfast sandwich from a certain fast food chain. Be careful heating the egg (they can explode if you're not careful).




Mr Breakfast would like to thank mitchellkc1 for this recipe.

Recipe number 1686. Submitted 3/28/2006.