Monkey Bread

(6 servings)

1 12-ounce package biscuit dough - seperated into individual biscuit pieces
1/2 cups white sugar
1 Tablespoon cinnamon
1/3 cup pecans or walnuts - chopped
1/2 cup butter
3/4 cup brown sugar
Preheat oven to 350 degrees.

Prepare a loaf pan (around 9 inches x 4 inches) with a light coating of butter or cooking spray.

Mix the white sugar and cinnamon together in a large zip-lock bag. Cut each biscuit into quarters. Place them in the bag 10 to 15 at a time and shake to coat each piece. Arrange coated biscuit pieces in loaf pan - scattering the chopped walnuts among them.

In a small sauce pan over medium-low heat, melt the butter. When it is almost completely melted, add brown sugar. Stir. Increase heat to medium-high and allow mixture to boil for one minute.

Pour hot mixture over biscuit pieces in prepared pan.

Bake for 25 minutes or until golden on top. Allow bread to cool in pan for 6 or 7 minutes. Don't let it cool completely - you want the caramel to still be somewhat liquid.

Flip the entire bread upside down onto a plate. The caramel will be thick and gooey and will drip down the sides of the bread.

Serve warm.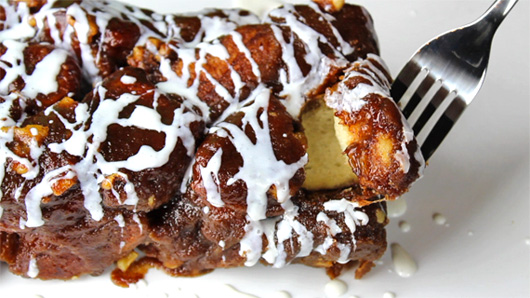 For a video tutorial of this recipe, check out our blog post titled How To Make Monkey Bread.


If you like raisins, you can add 1/3 of them with - or instead of - the nut pieces. This bread is huge in our house around St. Patrick's Day. It's a special treat for our kids who - please believe me - eat much healthier most of the time.




Mr Breakfast would like to thank JimmyK for this recipe.

Recipe number 1672. Submitted 3/20/2006.