Pistachio Muffins

(12 servings)

1 cup all-purpose flour
1 cup whole-wheat flour
3/4 cup brown sugar
3/4 cup low-fat milk
1/2 cup applesauce
1/2 cup vegetable or canola oil
1/2 cup oats - quick or old fashioned
1/3 cup pistachio nuts - finely chopped
1 large egg - lightly beaten
1 Tablespoon baking powder
1/2 teaspoon salt


For Topping (just mix together):
1/4 cup pistachio nuts - finely chopped
3 Tablespoons brown sugar
Preheat oven to 400 degrees.

Prepare 12 muffin cups with papers or generous coating of cooking spray.

In a large mixing bowl, sift together the flours, sugar, oats, nuts, baking powder and salt.

In a separate bowl, mix together milk, applesauce, oil and egg.

Add wet ingredients to dry ingredients and mix until just moistened.

Fill prepared muffin cups a little more than 3/4 full. Sprinkle topping evenly over each muffin.

Bake for about 20 minutes until golden brown. Stick a toothpick in the center of one of the muffins. If it comes out dry, the muffins are done. If there's a little batter stuck to it, you need to cook the muffins longer.

Allow muffins to cool before serving.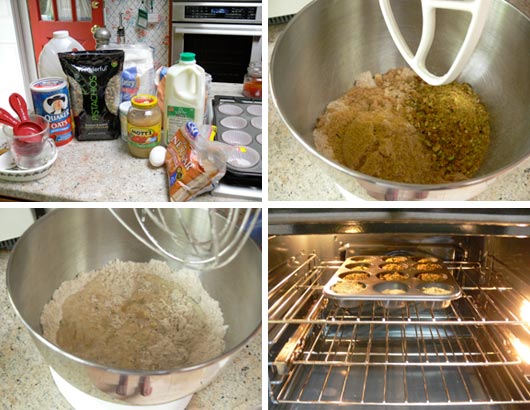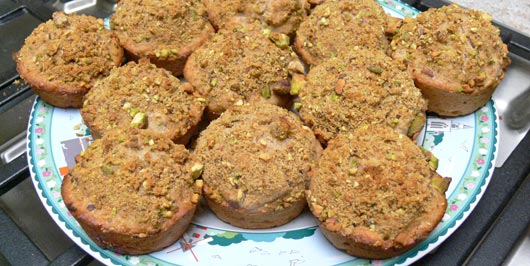 The pictures here are from SheRocksFitnessNJ.com where Kathleen tried our recipe and said that it was "easy, reasonably healthy, quick, and of course delicious!"


This recipe makes a dozen muffins. As far as delicious muffins go, this is a fairly low-fat recipe (no butter).




Mr Breakfast would like to thank Sisterbreakfast for this recipe.

Recipe number 1664. Submitted 3/8/2006.