Banana Walnut Pancakes

(4 servings)

1 medium banana (the more ripe the better) - mashed
1 cup flour
1 cup buttermilk
1/2 cup crushed walnuts
1 large egg - beaten
2 Tablespoons canola oil
2 teaspoons sugar
1 teaspoon baking powder
1/2 teaspoon salt
1/2 teaspoon vanilla extract
This recipe was sent to me by "newjerseygal" a while back. I finally got around to trying it (November 2012). It wasn't until I took these pictures that I realized I had used chopped pecans instead of walnuts. I can tell you this... these pancakes are great with pecans and I have to assume they'd be just as good with walnuts.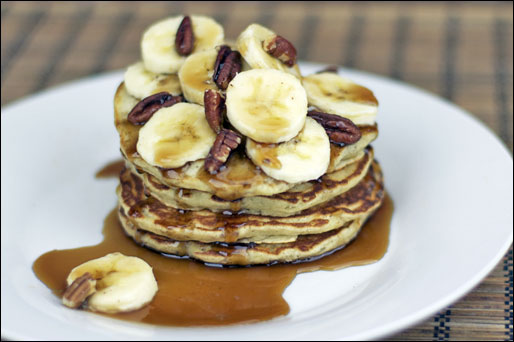 How To Make Banana Walnut Pancakes

In a large bowl, sift together flour, sugar, baking powder and salt.

In a seperate medium bowl, mix together buttermilk, egg, cooking oil and vanilla.

Add wet ingredients to dry ingredients and mix well.

Stir in banana until just mixed. Fold in walnuts.

Pour in 1/2 cup portions onto a heated (medium-high), greased griddle or large fry pan.

Turn the pancake when the visible side starts to show a lot of bubbles. Turn and cook other side until golden brown.

Serve with butter and syrup, or any other favorite topping.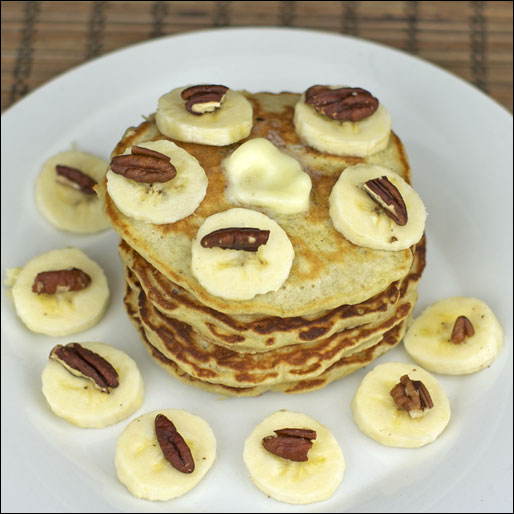 We love these reliable pancakes topped with fresh banana slices and a dollop of whipped cream. Mmmmmm. Delicious. I may go make some right now.




Mr Breakfast would like to thank newjerseygal for this recipe.

Recipe number 1647. Submitted 2/9/2006.