Banana Date Coffee Cake

(10 servings)

3 cups all-purpose flour
1 and 1/2 cups dates - chopped
1 and 1/4 cups buttermilk
1/2 cup butter - softened
1/3 cup sugar (see notes below)
3 medium bananas
juice from 1 orange
3 large eggs - lightly beaten
1 teaspoon vanilla extract
2 teaspoons baking powder
1 teaspoon baking soda
1/2 teaspoon salt


For The Topping:
1/3 cup dates - chopped
1/2 cup flaked coconut
1/3 cup walnuts - chopped
1/4 cup butter - softened
4 Tablespoons all-purpose flour
1/4 cup brown sugar
Preheat oven 350 degrees. Prepare a 13x9 baking pan with a generous coating of cooking spray.

In a small bowl, cream butter and sugar with fingers until texture is like coarse sand.

In a large bowl, sift together flour, baking powder and salt.

In a separate bowl, mash the banana. Add butter/sugar and mix by hand until creamy. Add eggs, buttermilk, orange juice and vanilla extract and mix well.

Add wet mixture to dry ingredients. Add chopped dates and mix well.

Pour batter into prepared pan and smooth out evenly with the back of a spoon.

Combine all topping ingredients in a small bowl or cup and sprinkle topping evenly over batter.

Bake for 20 to 25 minutes or until a toothpick inserted in the center comes out clean.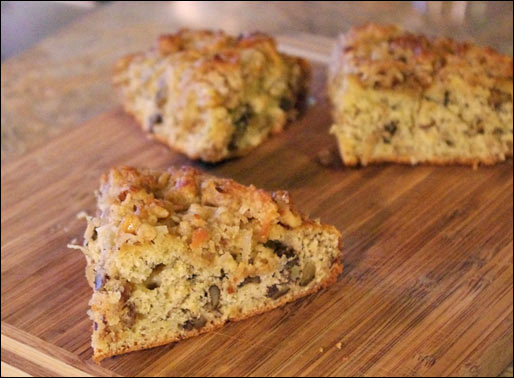 The banana helps to make this coffee cake nice and moist... and delicious!




Mr Breakfast would like to thank DixieChick for this recipe.

Recipe number 1636. Submitted 1/19/2006.