Oatmeal Coffeecake

(10 servings)

1 cup quick-cooking oats
1 and 1/4 cups hot water
1 and 1/4 cups all-purpose flour
1 cup white sugar
1 cup brown sugar - packed
1 teaspoon baking powder
1 teaspoon cinnamon
1/2 cup butter - softened
2 large eggs
1 teaspoon vanilla extract
1/3 cup chocolate chips - optional


For The Topping:
1 and 1/4 cups flaked coconut
1/2 cup pecans or walnuts - chopped
1/2 cup brown sugar - packed
1/4 cup evaporated milk
1/4 cup butter - melted
1 teaspoon vanilla extract
This coffeecake was very moist, quite sweet and the flavor was slightly reminiscent of German chocolate cake. The one thing I really liked was that you didn't really notice the oats despite there being almost as much oats as flour. I did find it overly sweet. If I make it again, I'd cut the amount of sugar by 1/4th in both the cake and the topping. I might also skip the optional chocolate chips as the coffeecake has a great flavor without them. Overall: Very satisfying results. Not my favorite all-time coffeecake, but pretty terrific. (This recipe was submitted in 2006. It was tested and photographed in April 2014.)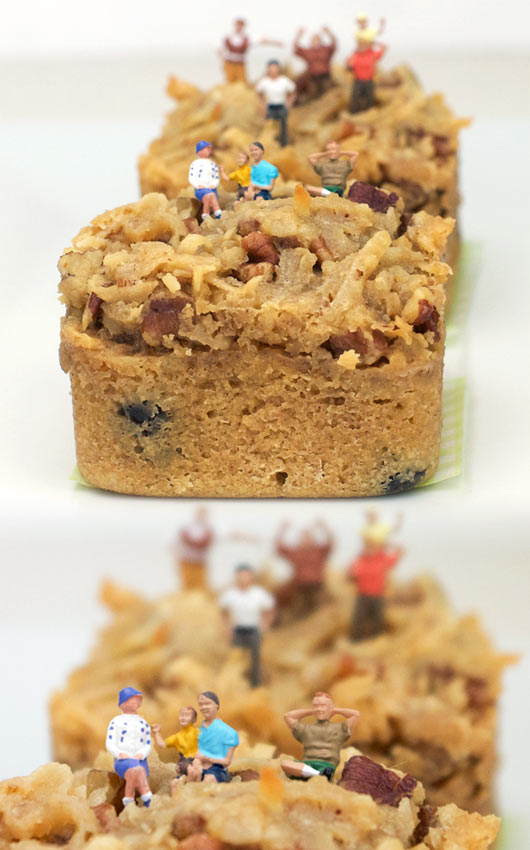 How To Make An Oatmeal Coffeecake

In a large bowl, stir oats into hot water. Cover and set for at least 15 minutes.

Preheat oven to 350 degrees.

In a large bowl, sift together all dry ingredients for the batter (flour, both sugars, baking powder and cinnamon).

In a medium bowl, beat eggs with softened butter and vanilla extract.

Add wet ingredients to dry ingredients and stir until just blended. Add oatmeal mixture and stir until mixed. Fold in optional chocolate chips if using.

Bake for 30 minutes.

To make the topping, simply stir together all topping ingredients. Spread on cake after the initial 30 minute baking time. Reduce heat to 300 degrees and bake cake with topping for an additional 15 to 20 minutes.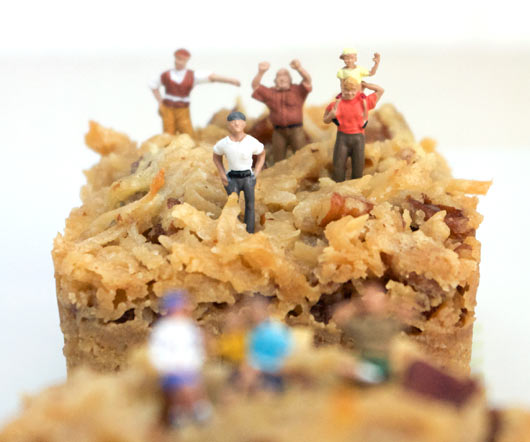 Cooking Notes:

I made individual coffee cakes in a 12-count mini-brownie pan. The cooking time for that was an initial 20 minutes and then I added the topping and baked for another 20 minutes. That indicates to me that this recipe would also make excellent muffins, although I'd expect the cooking time to be closer to a total of 30 minutes for that.

This coffeecake was especially good days after it was made - for up to 5 days. I wrapped individual portions in plastic wrap. I didn't refrigerate them. The coffeecake stayed moist and delicious. It made for a great on-the-go breakfast.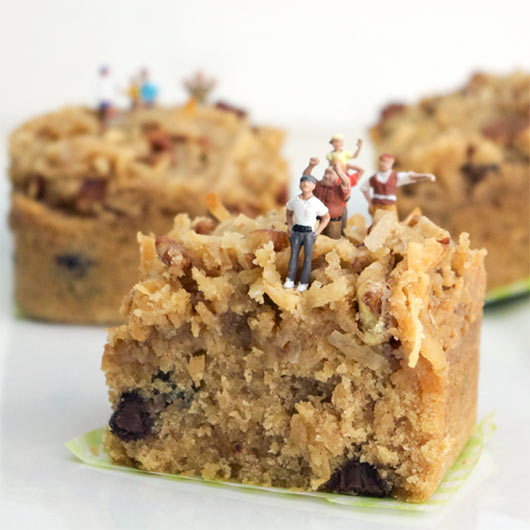 I use a deep 9 x 9 pan and usually have a little batter left over to make one personal muffin for myself.




Mr Breakfast would like to thank BethH for this recipe.

Recipe number 1614. Submitted 1/7/2006.