Egg Bruschetta

(4 servings)

4 slices toast
2 large cloves garlic
2 or 3 ripe tomatoes - sliced thickly
4 extra-large eggs
salt and pepper - to taste
extra virgin olive oil for frying
I really liked the rustic simplicity of this recipe. It took about 10 minutes to make. I opted to use cherry tomatoes because that's what I had on hand. I sliced them and then fried them in olive oil for about 6 minutes. Once warmed, the tomatoes release a terrific sweetness that make this dish pretty special. When it comes to cooking the egg, I went with over-easy because I wanted a runny yolk. But I could see scrambled or poached eggs working just as well. I recommend smearing a little butter on the garlic toast. Final Verdict: Fantastico! (This recipe was submitted in 2006. It was tested and photographed in February 2015.)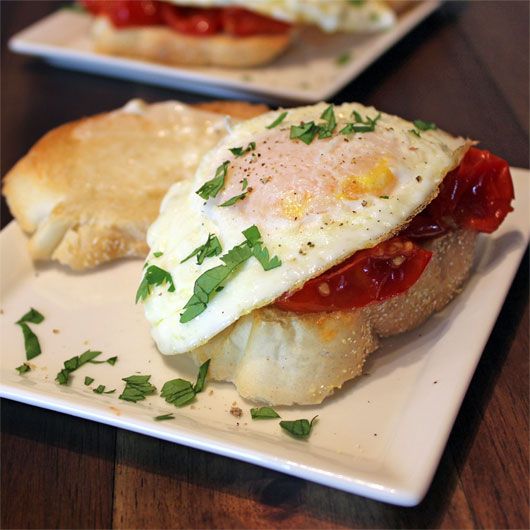 How To Make Egg Bruschetta

Lightly grill the tomato slices then keep warm.

Meanwhile rub the garlic onto the toast. The more you like garlic the more you rub.

Fry the eggs over medium heat in extra virgin olive oil until the whites of the eggs are set.

To assemble, cover each slice of garlic toast with grilled tomato. Season with salt and pepper if desired. Top with the fried egg and serve immediately.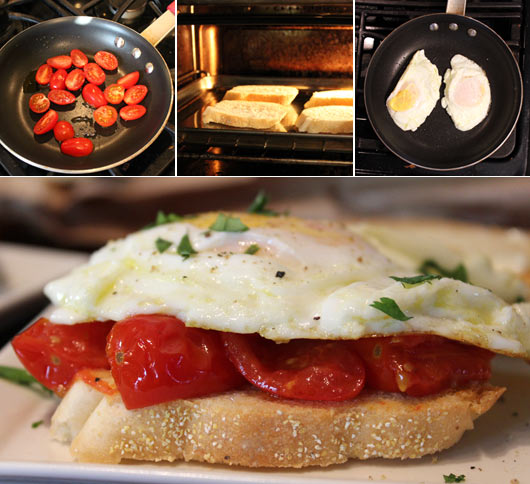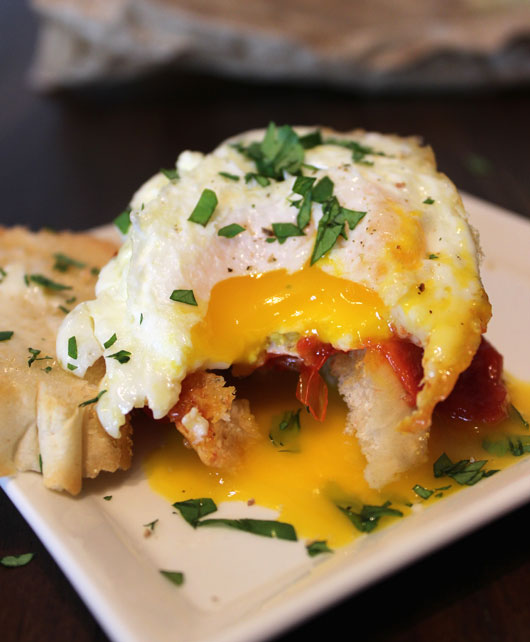 A tasty bruschetta with a fried egg on top. Molto bene (means very good in Italian)!




Mr Breakfast would like to thank Anonymous Breakfast Lover for this recipe.

Recipe number 1612. Submitted 1/5/2006.