Eggnog French Toast

(6 servings)

4 large eggs
1/2 cup dairy eggnog
1 Tablespoon granulated sugar
1 and 1/2 teaspoons maple syrup
1/2 teaspoon ground cinnamon
1/4 teaspoon ground nutmeg
1/8 teaspoon ground cloves
1/8 teaspoon salt
6 slices Texas toast
1 Tablespoon cooking oil
sifted powdered sugar
warm maple syrup
1. In a shallow bowl, whisk together eggs, eggnog, granulated sugar, the 1-1/2 teaspoons maple syrup, the cinnamon, nutmeg, salt and cloves.

2. Place bread, two slices at a time, into egg mixture,until saturated, turning once.

3. Heat cooking oil in a nonstick griddle or skillet. Cook the egg-coated bread for 2-3 minutes per side until golden. Add more oil if needed.

4. Serve immediately or keep warm in 300 degree F oven while cooking remaining bread. Cut in half diagonally and sprinkle with powdered sugar. Serve with maple syrup. Makes 3 to 6 servings.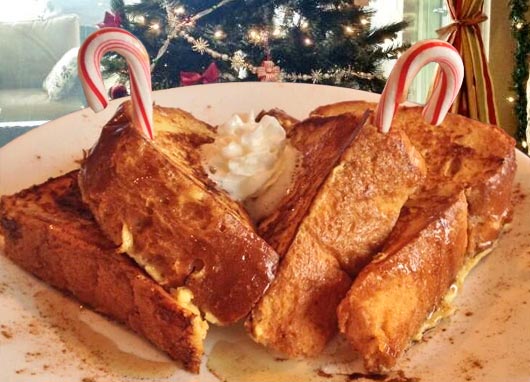 It's not just the eggnog that delivers a special holiday flavor. Additional seasoning from cinnamon, ground cloves and nutmeg make this a holiday flavor explosion.




Mr Breakfast would like to thank Konnie for this recipe.

Recipe number 1597. Submitted 12/9/2005.