Uitsmijter (Dutch)

(2 servings)

2 slices of white bakery bread
2 or 3 thin slices of ham
2 or 3 over-easy fried eggs
2 or 3 slices of Gouda cheese
butter - for the bread
salt and pepper - to taste
This recipe was originally submitted under the name "Eitsmiter". We've since come to learn that the correct spelling is "Uitsmijter". It's a very popular breakfast option in the Netherlands. Travelers to Amsterdam, in particular, often bring back memories of this simple, very filling and very Dutch dish. The word "uitsmijter" translates roughly to "eject forcefully". The name may have evolved from the dish being served in cafes late at night just before the bouncer had to give you the boot at closing time.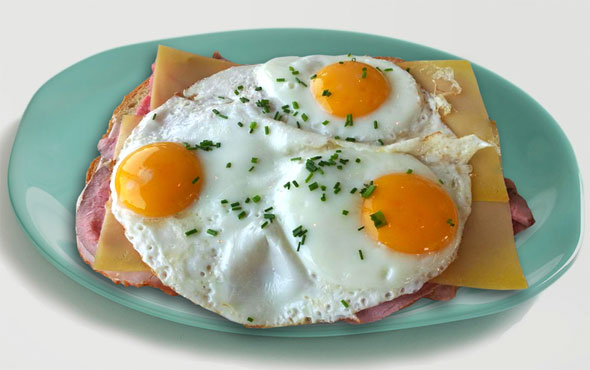 How To Make Uitsmijter

Fry the eggs in a frying pan over medium-high heat. When the eggs are nearly done, wad up the ham and place it next to the eggs just to warm it up.

Lightly toast the bread slices and butter them generously.

Place the bread side-by-side on a plate. Top the slices with ham, cheese and eggs. If desired, garnish with chopped chives.


This is a Dutch breakfast. I have used Carl Buddig ham slices, but you can use any kind.




Mr Breakfast would like to thank myrtle599 for this recipe.

Recipe number 1582. Submitted 11/25/2005.