Eggnog Pancakes

(4 servings)

1 and 1/2 cups all-purpose flour
1 and 1/2 cup eggnog
1 large egg - lightly beaten
2 Tablespoons butter - melted and cooled
1 Tablespoon sugar
2 1/2 teaspoons baking powder
1/2 teaspoon salt
As of December 2013, I adjusted this recipe slightly. In response to comments saying the batter was too thick, I increased the amount of eggnog to 1 and 1/2 cups. That worked great for me. Just add additional eggnog to the batter in Tablespoon amounts if it's still a bit too thick. I also changed the butter to "melted" instead of "softened". In my experience with pancakes, melted butter always integrates better and helps make a smoother batter. With those change (reflected above), this is a great recipe.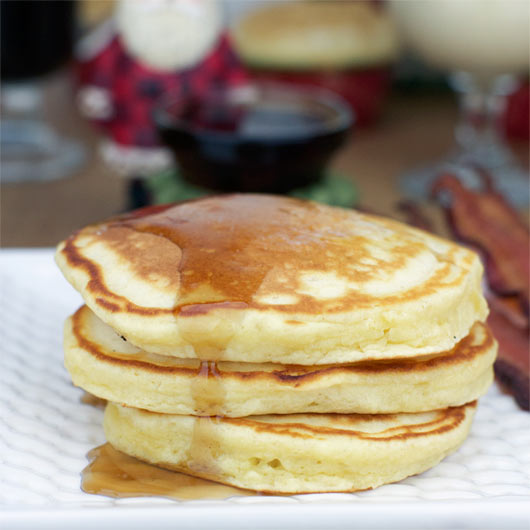 How To Make Eggnog Pancakes

Heat griddle or skillet to medium heat. Coat lightly with cooking spray.

In a large bowl, sift flour with sugar, baking powder, and salt.

In a separate bowl, mix remaining ingredients.

Add wet ingredients to dry ingredients and mix well.

Pour batter - about 1/4 cup per pancake - onto griddle. When pancakes begin to bubble on top, flip and cook until both sides are golden brown.

Serve with butter and powdered sugar. A sprinkle of grated nutmeg is great finishing touch.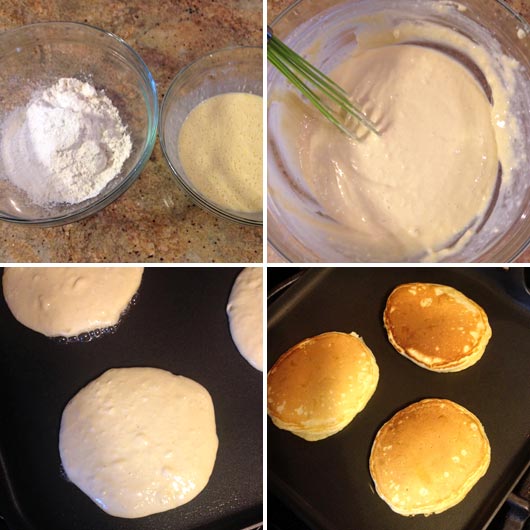 Variations:

To make Chocolate Chip Eggnog Pancakes, sprinkle 7 or chocolate chips over each pancake right after you dollop the batter on the griddle. Flip and cook as usual.

To make Banana Eggnog Pancakes, slice a banana into 1/4-inch coins. As soon as you dollop the batter on the griddle, place a few banana slices on each pancake. Flip and cook as directed above.
Topping Idea:

If you really want to holiday up this breakfast, try making a Maple Cranberry Topping for the pancakes. Take 1 and 1/2 cups fresh (or thawed frozen) cranberries, 3 Tablespoons of butter and 1 cup pure maple syrup and simmer those ingredients together in a medium sauce pan for 15 minutes until cranberries have burst. If desired, add 2/3 cup chopped pecans during the last 5 minutes of simmering.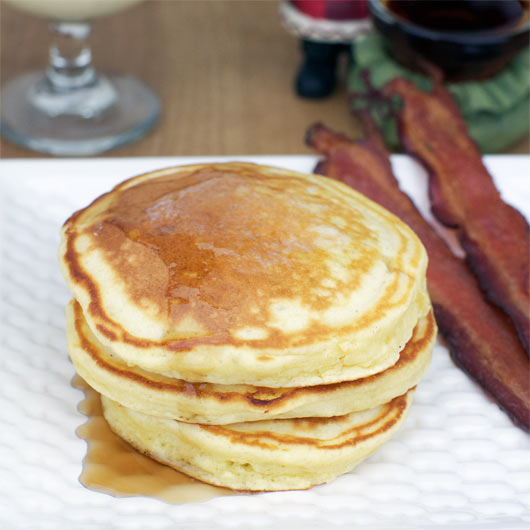 A fantastic holiday breakfast. I look forward to my supermarket carrying eggnog every Christmas season so we can make these. Enjoy.




Mr Breakfast would like to thank Jazzbo for this recipe.

Recipe number 1575. Submitted 11/15/2005.