Pumpkin Raisin Muffins

(24 servings)

3 and 1/2 cups all-purpose flour
1 and 1/4 cup reduced fat milk
1 cup canned pumpkin
1/4 cup apple sauce
1 cup raisins
1 cup white sugar
1/2 cup brown sugar
3 large eggs
3/4 cup butter - softened
4 teaspoons baking powder
1 and 1/2 teaspoon cinnamon
1/2 teaspoon nutmeg
1/2 teaspoon salt
You'll like the flavor of these muffins, but don't expect them to taste like pumpkin pie. The pumpkin effect is more subtle and brings to mind the flavor of zucchini bread. The amount of sweetness seemed just right and there was a raisin in most every bite. The only problem I had was that the muffins stuck a bit to the muffin papers. You can cleanly remove the papers, but you have to do it slowly. These muffins are best served warm with a pat of butter. Next time I make these, I would consider increasing the amount of butter to 1 cup to see if they'll release more easily from the muffin papers. Overall, I'd give these muffins a solid B. For a pumpkin quick bread that I gave an A+ to, try our recipe for Chocolate Chip Pumpkin Bread. (The recipe on this page was submitted in 2005. It was tested and photographed in October 2014.)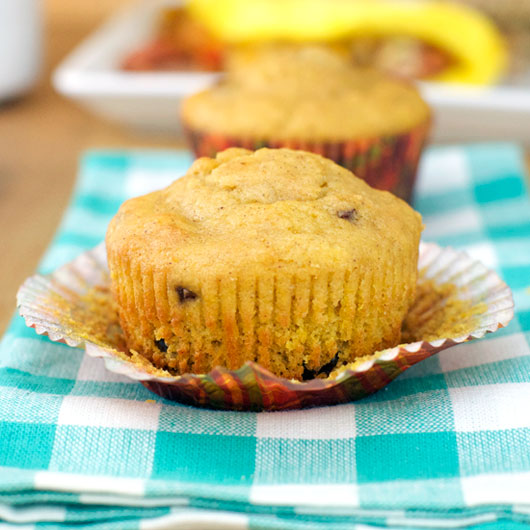 How To Make Pumpkin Raisin Muffins

Makes about 2 dozen medium-sized muffins.

Preheat oven to 400 degrees.

Prepare 24 muffin cups (2 tins) with muffin papers or a generous coating of cooking spray.

In a medium mixing bowl, cream butter and sugar until fluffy. Add pumpkin and eggs and beat well. Stir in the milk, brown sugar and apple sauce.

In a separate large bowl, sift together all dry ingredients. Add the wet ingredients and mix until well combined - not over-mixing. Stir in the raisins.

Spoon batter into muffin cups, filling each about 3/4 full.

Bake for 18 to 24 minutes. Testing with a toothpick at 18 minutes.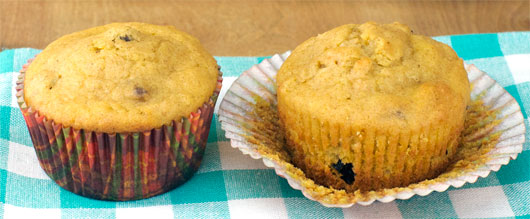 Cooking Note From Mr Breakfast:

For me, it took 19 minutes to make regular-size muffins with this recipe. It took 14 minutes to make mini-size muffins.

Pumpkin muffins aren't just for Halloween anymore. Easy, moist and delicious.




Mr Breakfast would like to thank CurtAndMary for this recipe.

Recipe number 1561. Submitted 10/22/2005.