African Banana Coconut Bake

(5 servings)

5 medium bananas
2/3 cup shredded coconut
1/3 cup orange juice
3 Tablespoons brown sugar
1 Tablespoon butter
1 Tablespoon lemon juice
I made my African Banana Coconut Bake in separate small baking dishes, fitting about 1 banana in each dish. I liked the overall flavor. Along with the baking, the butter and brown sugar really changed the nature of the bananas. This is a real easy dish to make. It took me about 15 minutes from start to finish. Don't be shy about using a lot of coconut. I used the instructed amount but wished that I'd used more. One word of warning: Be sure to serve this right away. After about 6 minutes, the bananas show a slight discoloration despite the use of citrus to prevent browning. (This recipe was submitted in 2005. It was tested and photographed in March 2014.)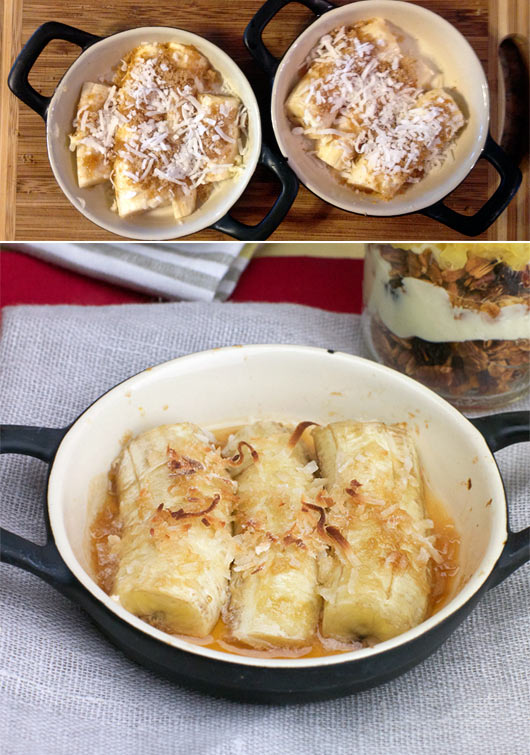 How To Make An African Banana Coconut Bake

Preheat oven to 375 degrees.

Cut bananas crosswise into halves. Cut each half lengthwise into halves and arrange in a small (9-inch) greased pie plate or casserole dish.

Dot with butter. Drizzle with orange juice and lemon juice. Sprinkle with brown sugar and coconut.

Bake for about 10 minutes or until coconut is golden brown.


In Ghana, this Banana Coconut Bake is known as Akwadu.




Mr Breakfast would like to thank CornFlake for this recipe.

Recipe number 1555. Submitted 10/16/2005.