Blueberry Grape-Nut Porridge

(1 serving)

1/2 cup Post Grape-Nuts cereal
1/3 cup vanilla soy milk (regular milk with two drops of vanilla extract works in a pinch)
3 Tablespoons fresh blueberries
2 teaspoons honey or brown sugar
1/4 teaspoon cinnamon
This is a hot cereal that's super easy to make and a fun change of pace from cold cereal or oatmeal. If you're a fan of Grape-Nuts, you'll probably like this one... if only for the novelty of trying something new. The cereal nuggets soften in the microwave but retain their integrity - giving a texture that's somewhat like very firm steel-cut oatmeal. Truth be told, I prefer my Grape-Nuts as a cold cereal, but I was happy that I got to try this alternate method of enjoying an old favorite. (This recipe was tested and photographed in November 2015.)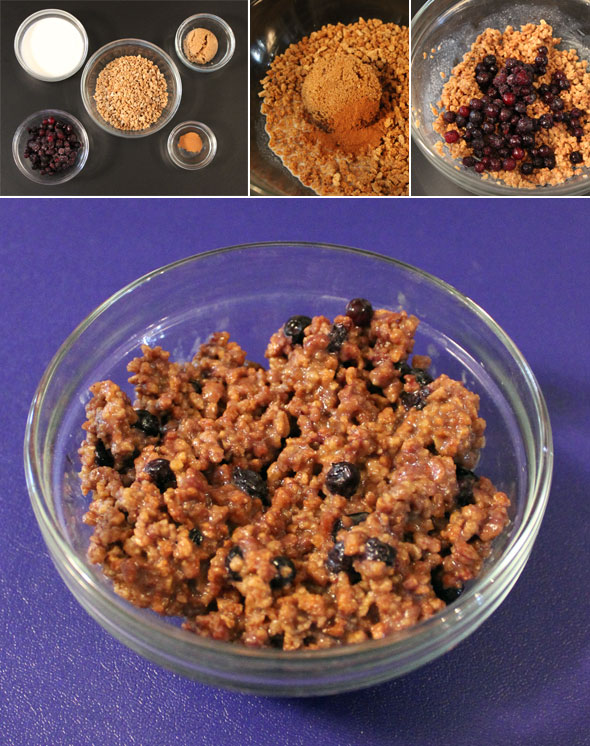 How To Make Blueberry Grape-Nut Porridge

In a microwave-safe serving bowl, stir cereal with milk, honey (or brown sugar) and cinnamon.

Microwave for 40 seconds.

Immediately stir blueberries into porridge. Microwave 15 additional seconds.

For a special treat, dollop a heaping Tablespoon of vanilla ice cream, frozen yogurt or whipped cream on top before serving.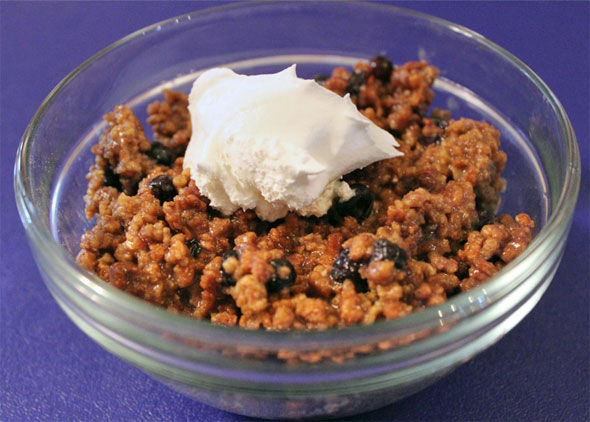 A new, and some might say "better", way to eat Grape-Nuts.




Mr Breakfast would like to thank Mr Breakfast for this recipe.

Recipe number 1501. Submitted 7/18/2005.