Better Blueberry Waffles

(6 servings)

1 cup fresh blueberries (frozen works too - just thaw and drain away excess liquid)
1 and 1/3 cups milk
2 large eggs - separated
1 teaspoon vanilla
2 cups all-purpose flour
2 Tablespoons sugar
2 teaspoons baking powder
2 pinches of salt
3/4 teaspoon cinnamon
1/3 cup butter - melted and cooled
After testing several blueberry waffle recipes and getting disappointing results, I decided to develop a signature recipe. These waffles turn out light and fluffy every time. If you fold the berries in carefully, they won't discolor the batter as some recipes tend to do. Plus, you're guaranteed a beautiful burst of blueberry in every bite. A hint of cinnamon and vanilla complement the flavor of the berries and add some life to the batter. For crisper waffles, brush the plates of your waffle iron with melted butter before dolloping on the batter. (This recipe began testing in 2005. It was perfected and photographed in August 2014.)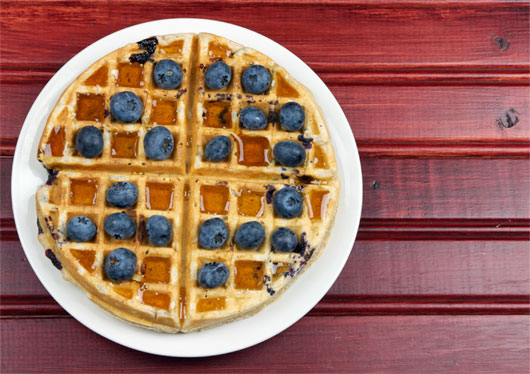 How to Make Better Blueberry Waffles



Makes 6 to 8 waffles.



Separate egg yolks and whites.

In a medium-sized bowl, beat the egg yolks and milk together. Stir in the vanilla.

In a larger bowl, sift the flour and stir in the baking powder, sugar, salt and cinnamon. Add the yolk and milk mixture and whisk until smooth. Stir in the melted butter.

Beat the egg whites with an electric beater until stiff peaks form. Fold the egg whites into the batter.

Gently fold the blueberries into the batter 1/3 cup at a time.

Cook in a well-greased waffle iron heated to its medium-high setting.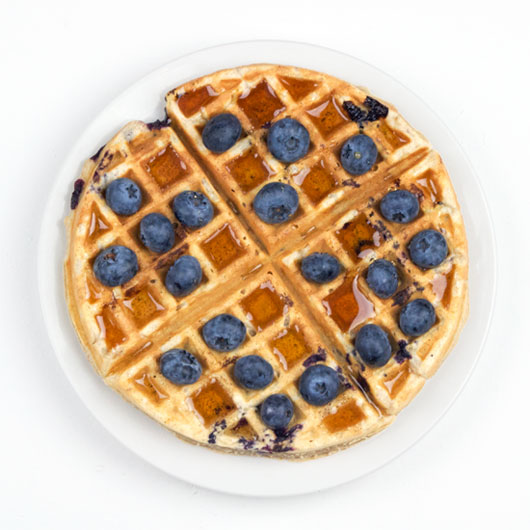 Additional Note From MrBreakfast:

This recipe made six 6-inch round waffles in a regular (non-Belgian) waffle maker. For my waffle iron, I used 1/2 cup of batter per waffle.

A good reliable blueberry batter. These waffles are great with a thin spread of butter topped with a few fresh berries and a dollop of whipped cream. Great with maple syrup too.




Mr Breakfast would like to thank Mr Breakfast for this recipe.

Recipe number 1495. Submitted 7/5/2005.