Florentine Eggs Benedict

(4 servings)

4 large eggs
12 large fresh spinach leaves
2 teaspoons olive oil
2 ounces thinly sliced cooked smoked turkey - optional
1 large tomato - sliced
2 toasted English muffins - split
1/4 cup low-fat milk
1/3 cup plain fat-free yogurt
3 Tablespoons light mayonnaise
2 teaspoons cornstarch
1 teaspoon yellow or brown mustard
1 dash ground red pepper
salt and pepper to taste
Poach eggs according to these directions.

At the same time, use the microwave to make the sauce. In a quart-sized microwave-safe bowl, stir together yogurt, mayonnaise, cornstarch, mustard, and red pepper. Add milk and stir. Microwave uncovered on high for 2 minutes or until slightly thickened. Stir once midway through cooking. Add salt and pepper to taste. Cover and set aside.

In a medium sauce pan or skillet, heat olive oil over medium heat. Add spinach and cook just 2 or 3 minutes until wilted.

Place toasted muffin halves on a microwave-safe plate. Top each half with a slice of tomato, 2 or 3 spinach leaves and a quarter of the turkey (if using). Remove eggs from water with a slotted spoon and place on top of the turkey. Spoon some sauce over each serving. If desired, a sprinkle of smoked paprika adds the perfect final touch.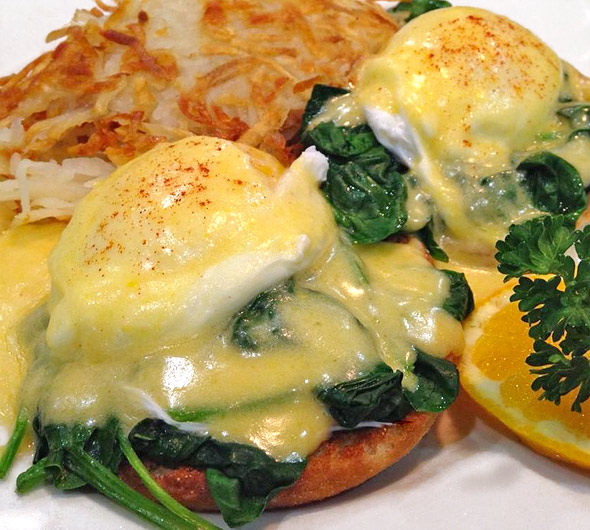 It seems like a lot of directions, but it really takes only about 10 minutes to make this delicious and fairly healthy breakfast.




Mr Breakfast would like to thank MrSpinach for this recipe.

Recipe number 1471. Submitted 5/21/2005.