Chocolate Chip Scones

(12 servings)

2 and 1/4 cups all-purpose flour
1/4 cup whole wheat flour
1/2 cup miniature chocolate chips
1/2 cup butter - cool and cut into small pieces
1 large egg - beaten
1/4 cup + 2 Tablespoons milk
3 tablespoons sugar
1 tablespoon baking powder
3/4 teaspoon ground cinnamon
1/2 teaspoon salt (omit if using salted butter)
heavy cream - about 1/8 to 1/4 cup for brushing
I tested a couple scone recipes the day I made these and this recipe was my favorite. They reminded me of scones I might get from Starbucks or The Coffee Bean. They're not too dry as many scones can be (usually on purpose). These beauties can be enjoyed on their own - maybe for a breakfast-on-the-go. I loved dunking them in coffee like a donut. I used regular-sized chocolate chips which worked fine, so don't worry if you don't have mini chips. I also made an icing drizzle which made them over-the-top delicious. The directions for the drizzle are below the recipe as originally submitted. I endorse this recipe 110%. (Recipe submitted in 2005. It was tested and photographed in September 2013.)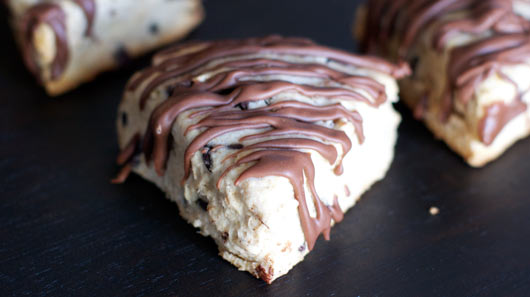 How To Make Chocolate Chip Scones

Preheat oven to 375 degrees F.

In a large bowl, combine the white flour, wheat flour, sugar, baking powder, cinnamon and salt. Mix well.

Cut the butter into the bowl until the mixture resembles course sand. Break the egg into a 1-cup measure and add milk to make 2/3 cup.

In a separate small bowl, mix egg and milk.

Add egg/milk and chocolate chips to the big bowl and mix with fingers into a ball shape. Continuing to use hands, knead the dough 6 or 7 times and then break into 2 equal portions.

Place each lump of dough on it's own greased cookie sheet. Press down to create a thick disk - about 3/4-inch to 1-inch thick.

Score each disc into 6 wedges. Brush with heavy cream.

Bake for 18 to 21 minutes. Test for doneness by inserting a toothpick in a thicker part of one of the scones. If the toothpick comes out batter-free then the scones are done.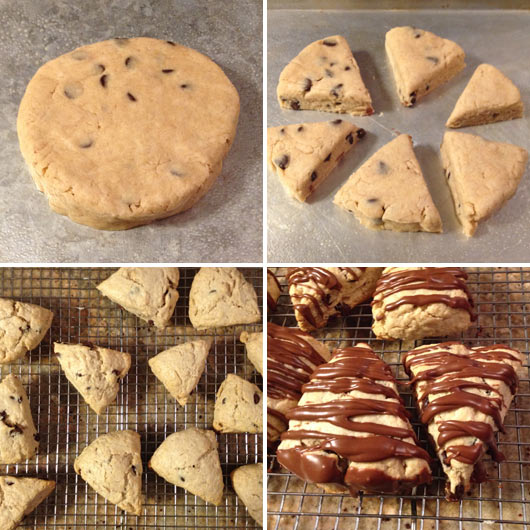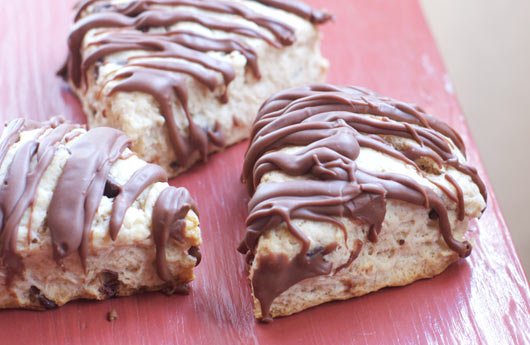 Cooking Note From Mr Breakfast:

To make the chocolate drizzle topping you see in the pictures: Combine 1 cup powdered sugar, 2 Tablespoons milk and 1/4 teaspoon vanilla - stir until smooth. Melt 1/4 cup chocolate chips in the microwave - about 40 seconds (stirring once midway). Add the melted chocolate to the icing and stir until well-combined and smooth. Stir in additional milk a teaspoon at a time until the icing drips of the whisk (or whatever you're stirring with) in a slow steady stream suitable for drizzling over the scones. Make sure sure the scones are cool before drizzling.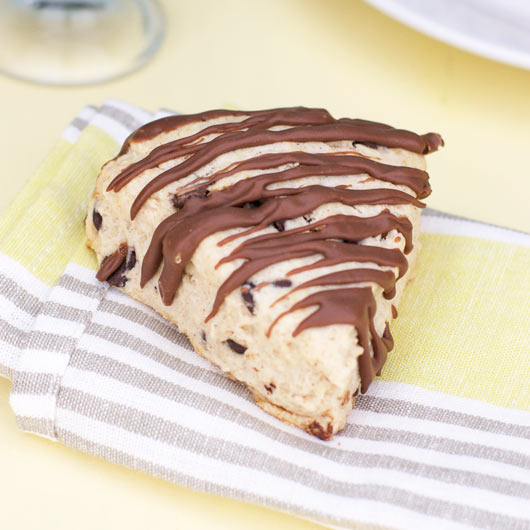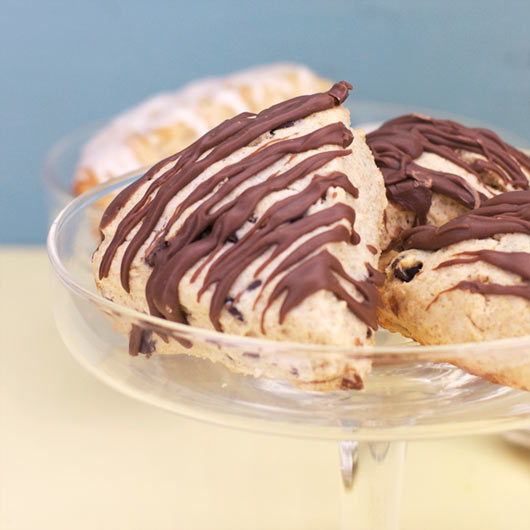 Makes 12 scones. Best when still slightly warm. As good as any bakery I know! Enjoy.




Mr Breakfast would like to thank muffin for this recipe.

Recipe number 1469. Submitted 5/6/2005.