Ashley's Scrambled Eggs

(4 servings)

6 eggs
5 slices of cheese
your favorite spices
Spray your pan and heat to medium.

In a large bowl combine egg and beat well.

Once your pan is hot enough, dump HALF of the eggs into the pan, and let settle for about 2 minutes. Once the eggs start to cook (you'll be able to know), scrape the eggs across the pan so they scramble. Add 2 pieces of cheese and the rest of the egg mixture. Let the cheese melt and let the rest of the eggs cook. Then add the rest of the cheese and season with your favorite spices.

Once the eggs are fully scrambled and the cheese is completely melted, take the pan off the heat and serve hot.

Enjoy!

Recipe depends on how many people in your family.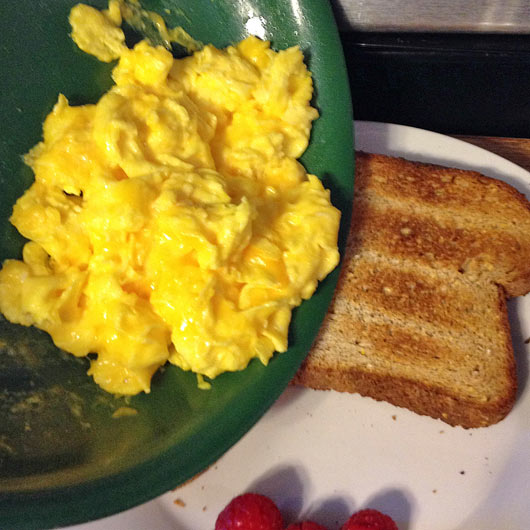 Note From Recipe Submitter:
I make this every Easter morning for breakfast for my family. It's always so popular! Especially with the kids. I sometimes take just a bowl of scrambled eggs, heat them and let the kids add what they want. But either way this recipe is always a smash!

A super basic recipe for cheesy scrambled eggs. You can use any kind of cheese slices you like: American, Cheddar, Pepper Jack, etc.




Mr Breakfast would like to thank hotlilbandgeek5 for this recipe.

Recipe number 1467. Submitted 4/30/2005.