Peach Bellini

(1 serving)

1/3 cup fresh peach juice
2/3 cup Champagne (or sparkling Prosecco sparkling wine)
1 teaspoons fresh lemon juice
1 teaspoons sugar or 1 sugar cube
mint sprig for garnish
The Bellini was invented in Italy around the 1930's. I had one this morning and I can tell you that it stands the test of time. Bubbly Champagne is refreshing on its own. Add fresh squeezed peach juice and... wow! It wakes up your senses. Of course, if you have too many it will eventually dull your senses. So enjoy in moderation... preferably with good friends. Here's to a great day! (Recipe Submitted in 2005. It was tested and photographed in October 2013.)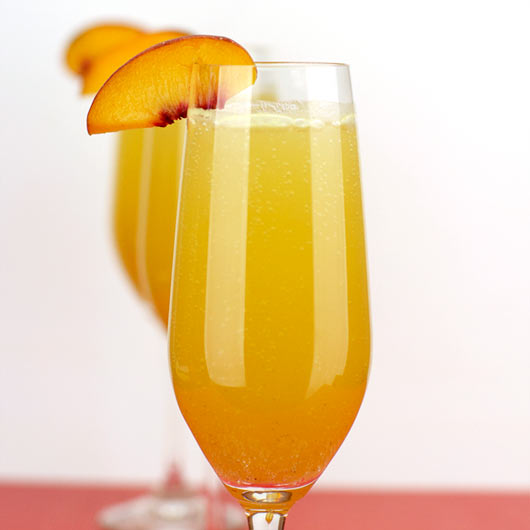 How To Make A Peach Bellini

In glass or bowl, stir peach juice with lemon juice... and sugar if not using cubes.

Pour mixture into a champagne flute.

Gently, top off the flute with the Champagne or sparkling wine, so that there is a layer of peach juice and a layer of champagne/wine.

If using sugar cubes, drop the cube in glass when serving. Garnish each glass with a sprig of mint.

Tip: For a refreshing FROZEN Peach Bellini, place the peach juice, lemon juice and sugar combination in a chilled glass. Add 1/3 cup crushed ice and stir. Then, add the Champagne.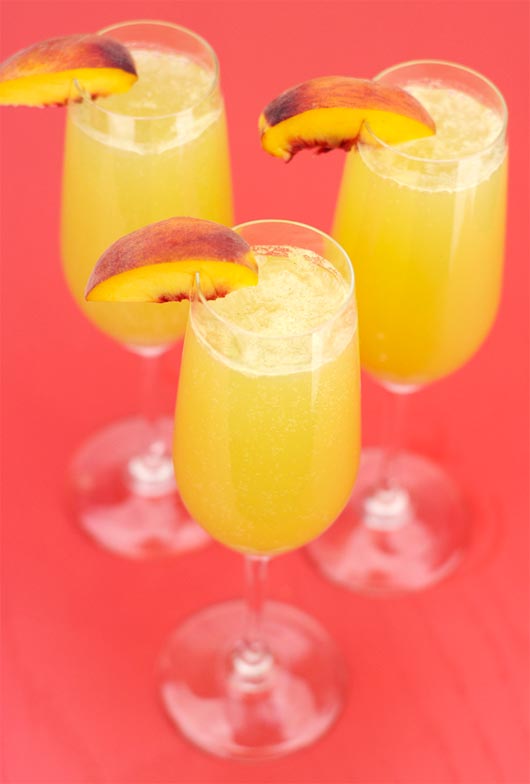 Alternate recipe: Replace peach juice, sugar and lemon juice with peach schnapps and a dash of grenadine. Not as pretty, but still pretty tasty.


A breakfast in bed favorite. A good way to class up any breakfast or brunch.




Mr Breakfast would like to thank Mr Breakfast for this recipe.

Recipe number 1464. Submitted 4/27/2005.