Buttermilk Waffles

(20 servings)

1 and 1/2 cups all-purpose flour
1 teaspoon double-acting baking powder
1 teaspoon baking soda
1/2 teaspoon salt
2 cups buttermilk
1/3 cup salad oil
2 eggs - beaten
1/2 teaspoon vanilla (optional)
Preheat waffle maker as manufacturer directs

Mix together the flour, baking powder, baking soda and salt.

In a separate bowl, stir together the buttermilk, oil, eggs and optional vanilla.

Add wet ingredients to dry ingredients and whisk until just mixed and moistened. Try not to over-mix.

Prepare according to waffle maker's directions and your done.



"Salad Oil" is an old school way of saying vegetable oil. Canola oil works well in this recipe.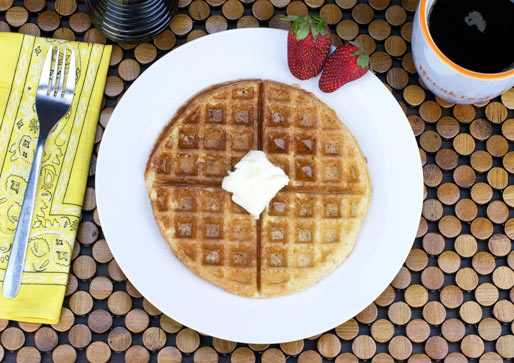 If making sweet waffles, add a Tablespoon of sugar to the dry ingredients. Omit if making savory waffles.




Mr Breakfast would like to thank BreakfastMaster for this recipe.

Recipe number 1462. Submitted 4/24/2005.